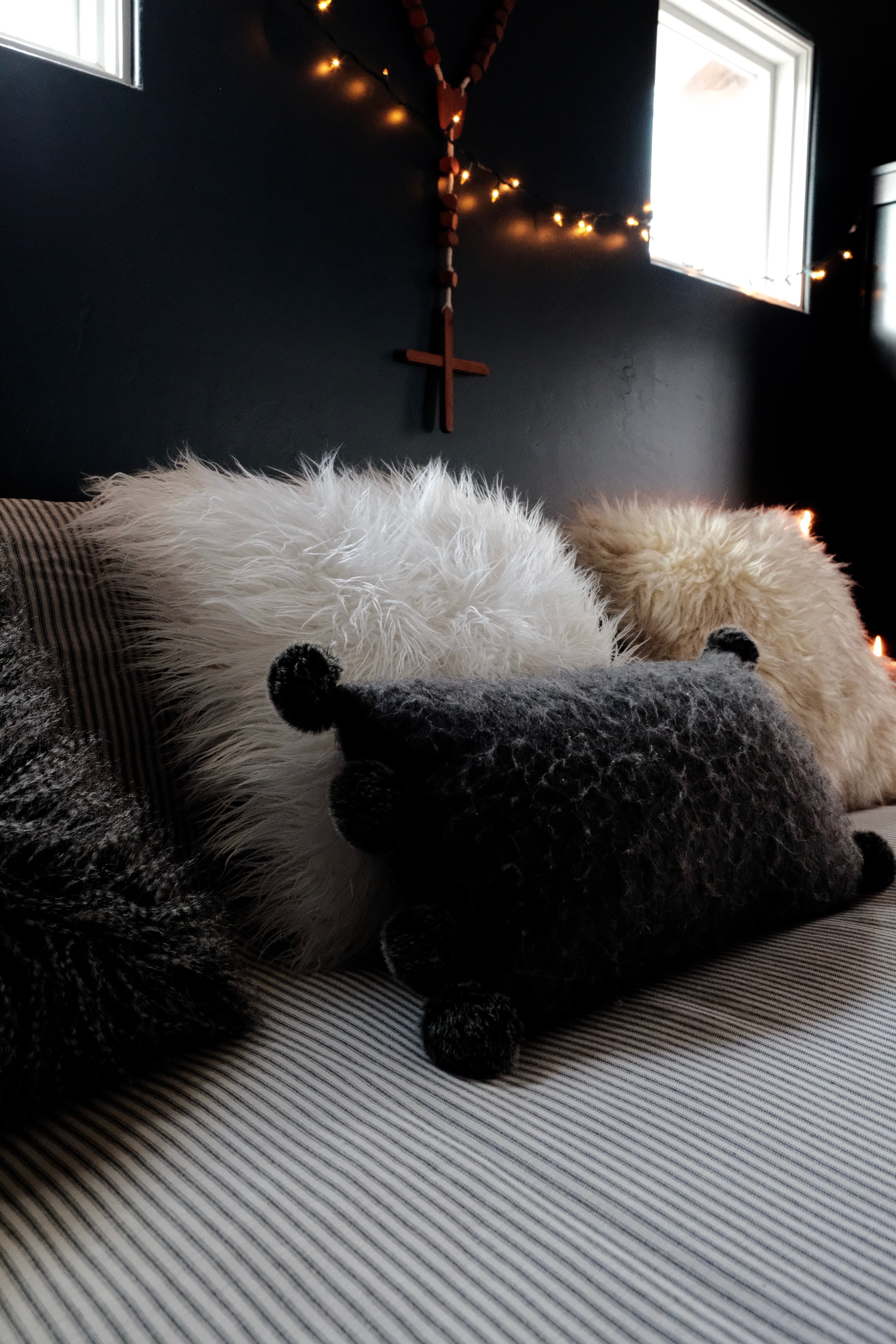 When I was nine or ten years old, I wanted to live in the house with the painted flowers. It was a Swedish-style cottage nestled in a mountain town; a place that looked like it was lifted straight from a storybook, with three stories, pale yellow shutters, and flowers & vines painted on its exterior. Perfect, cheery baskets of viola, impatiens, begonia, and bacopa were hung everywhere. The house looked like a European-style floral shop that someone decided to live in. Most compelling was the creek that ran behind the house; follow it long enough, and you would be led into a formal garden. Suffice to say that the flower house satisfied all of my childhood longings: soft colors, flowers, the close proximity of garden and meadow. I would draw the house and imagine myself watering all of those flowers, or walking to the garden, presumably, whenever I wanted.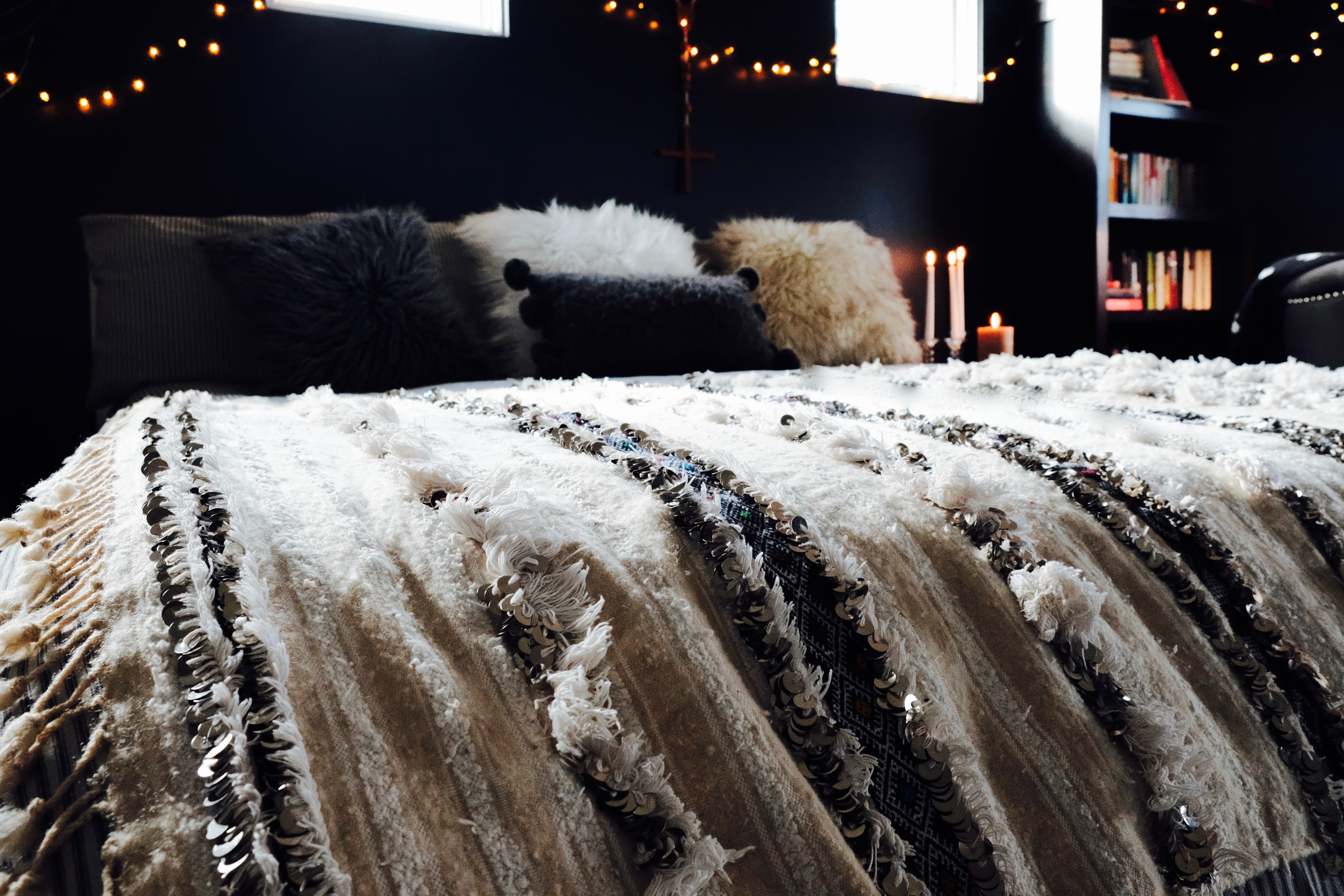 Given my childhood attractions, it will surprise no one here that I grew up to become a wedding florist, nor is it an astonishing piece of news that I tend an acre of flowers. It may, however, surprise some that the place I call home is a decidedly clean, spare apartment, the walls of which are painted black. Most probably assume that I have an all-white or shell-pink space with ultra-pretty everything, a shelf of botany books, and fresh flowers always. The truth is, after spending an entire day with flowers, I like a clear, clean environment. I think and feel better, and feel that I'm more sparked by the beauties of my job, when everything else in my life is pared down.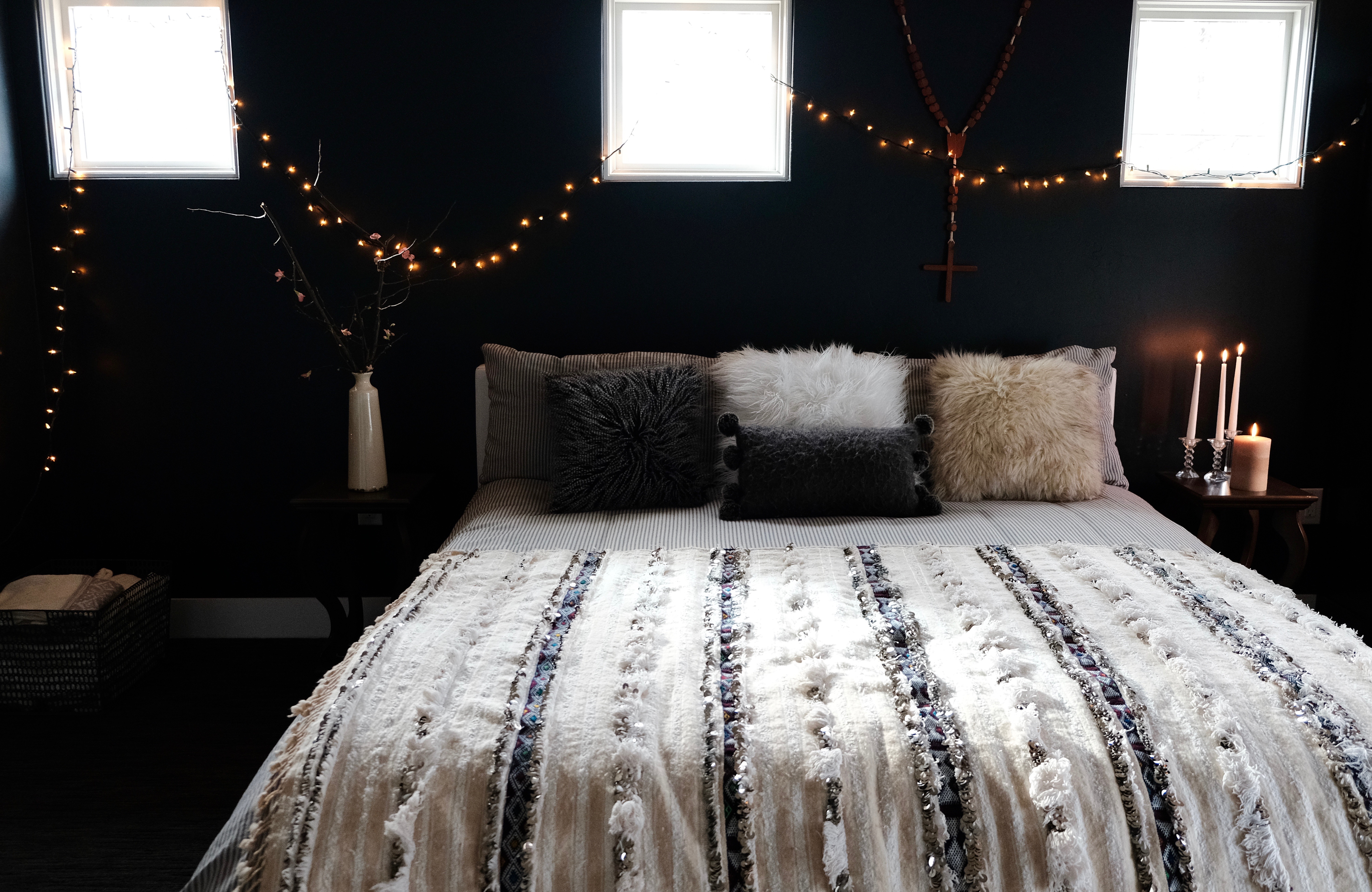 When it comes to aspirational spaces, these days, I appreciate subtlety. I read architecture books & blogs like it's my job to. I, like most of the blog-obsessed, love Japanese-inspired interiors, all temple and warm wood. I have a fascination with objects of beauty & use: small ceramics, earthenware, brass spoons, wabi-sabi tea kettles, heirloom paper, ikebana shears. I respect & admire those spaces that successfully bring the outdoors in, with touches of green, ample natural light, and beautiful floor-to-ceiling windows. I admire efficient spaces, in which many things are multifunctional, and all objects pass the "beautiful" and "useful" test. In my work, I am drawn to raw materials, foraged flowers, sustainability, purity. I suppose I'm after the same thing in an interior space.
It bears mentioning that I like simple spaces because my inner world is not, notoriously, the most simple. In art & architecture, we seek our opposite, and for me, that means a place of calm. I want to feel creative, relaxed, and at rest. I like to infuse a space with moments of humor and spunk. I want to surround myself with meaningful and beautiful things. I like an absence of stuff.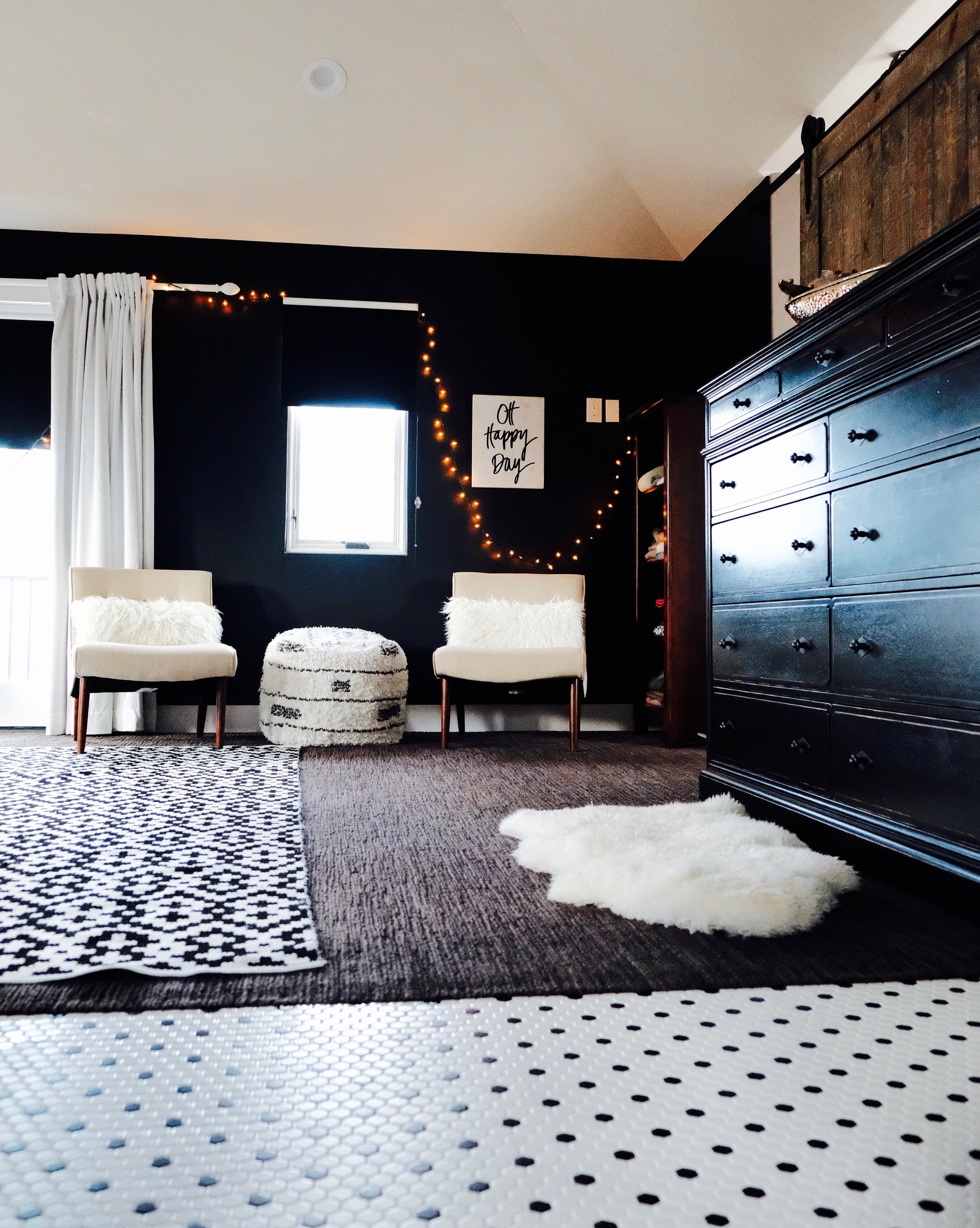 Living in concert with beauty is something that I'm very devoted to. It may sound a bit entitled—and I suppose, in a sense, that it is—but I really do feel my best in a creative, clean, and beautiful environment. To even have a home is a gift—I realize this—and I realize that a person who considers beauty a priority is a person whose basic needs are more than covered. But I've chosen to be honest about what's important to me in life, what I do not want to live without. And I do not, and maybe cannot, live without a close connection to beauty. I find that cultivating beauty is one of the best antidotes to stress & anxiety. The right kind of space promotes the right kind of thinking—which, for me, means creative, restful, and prayerful thinking.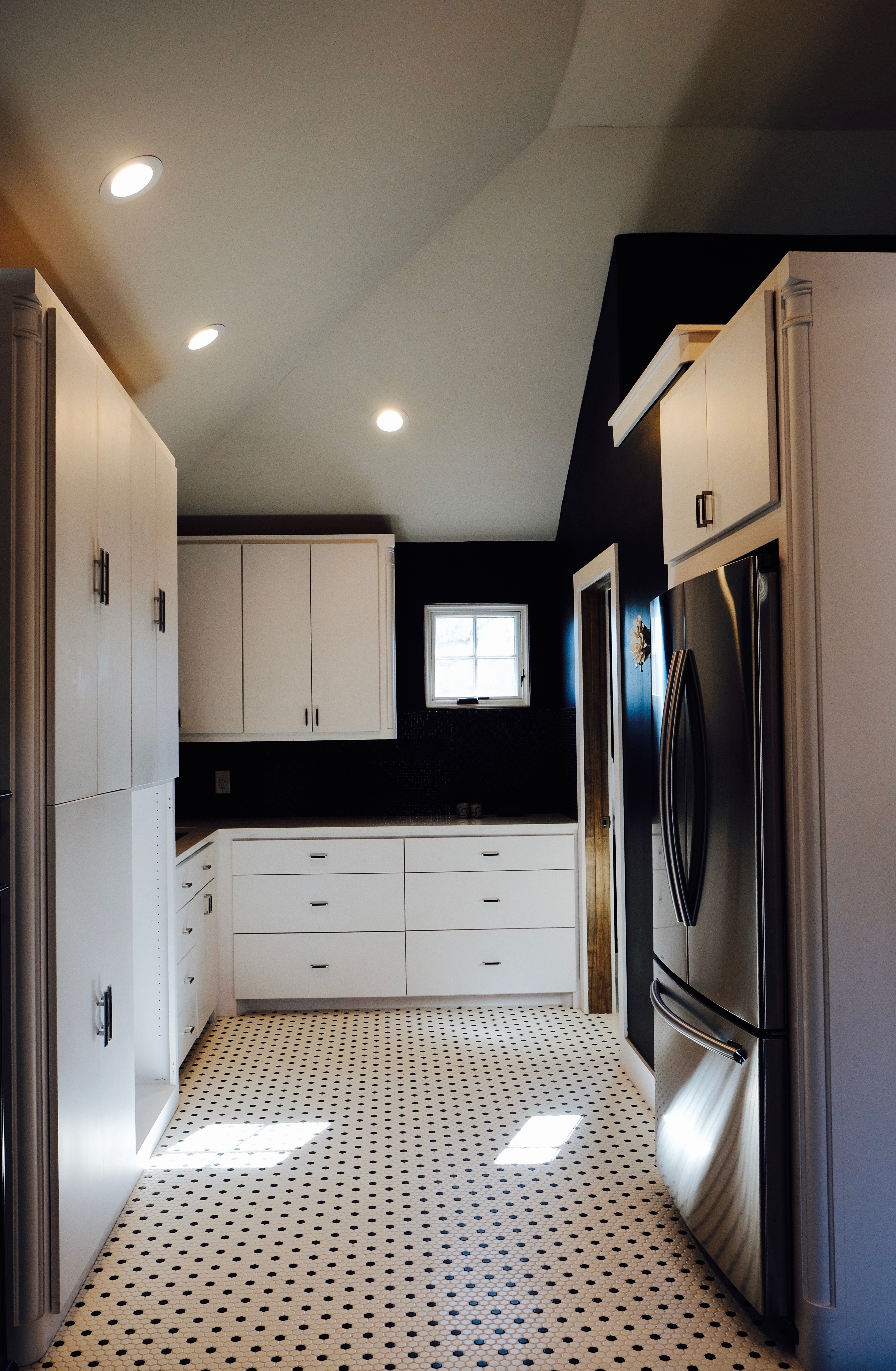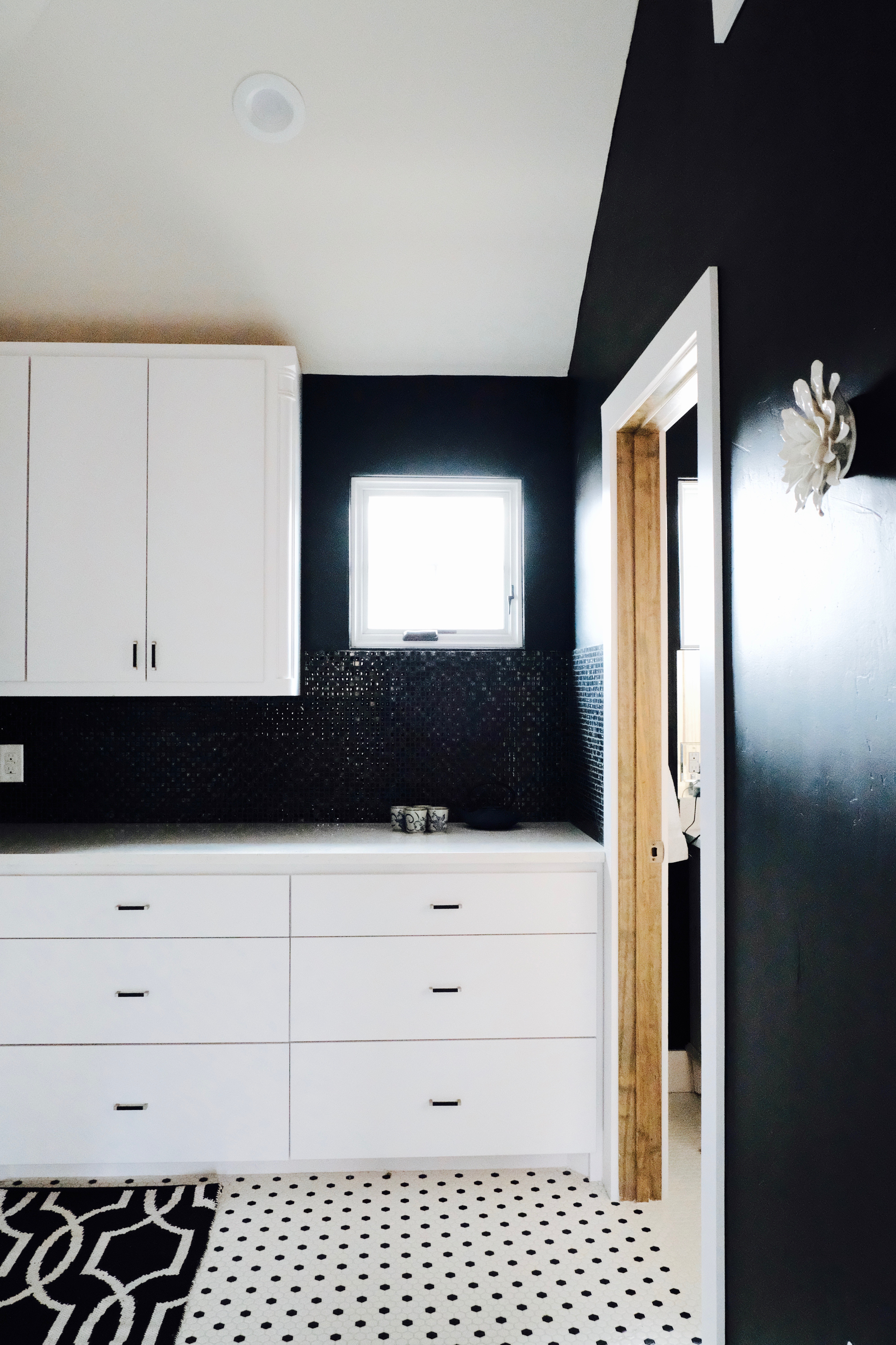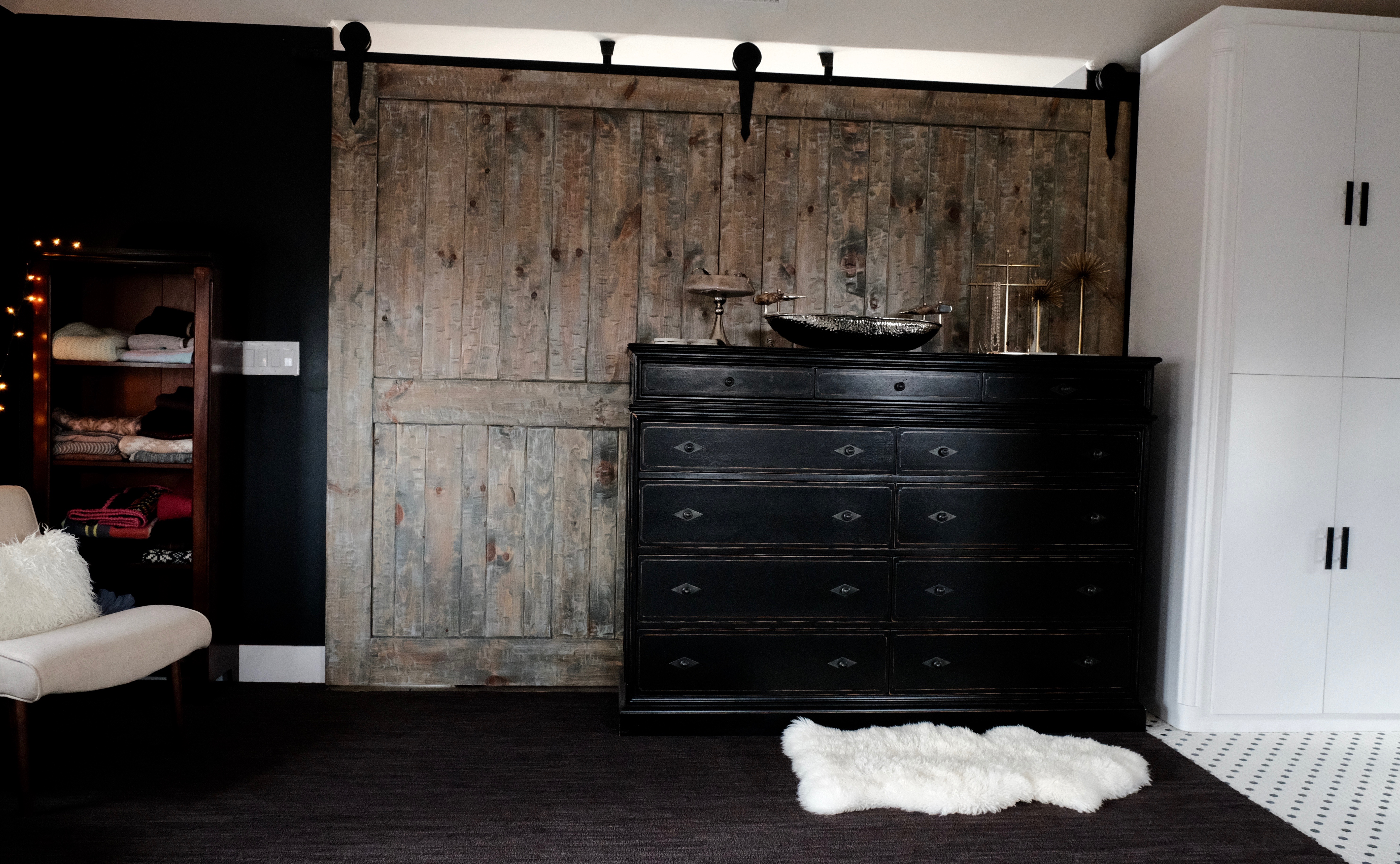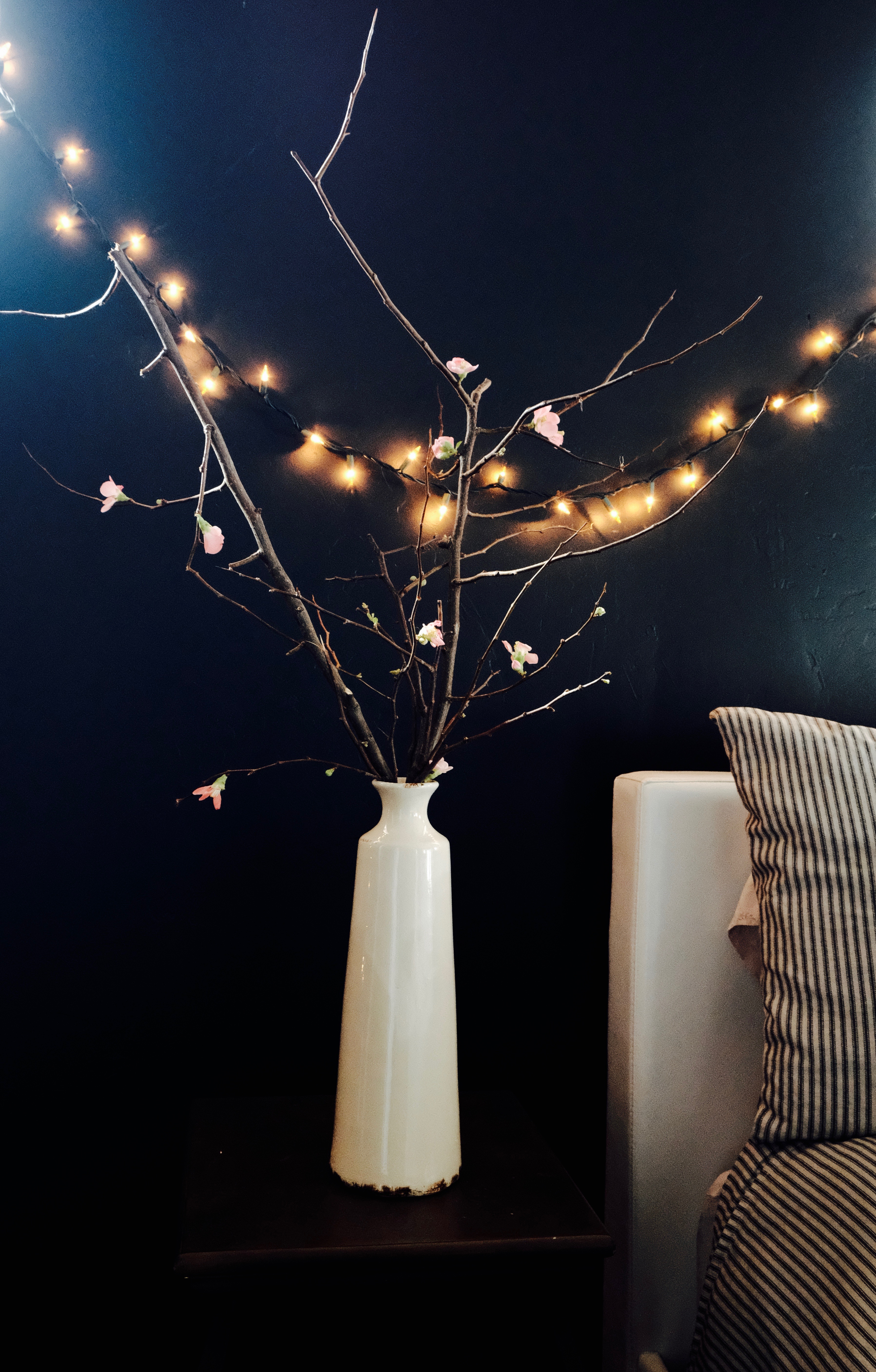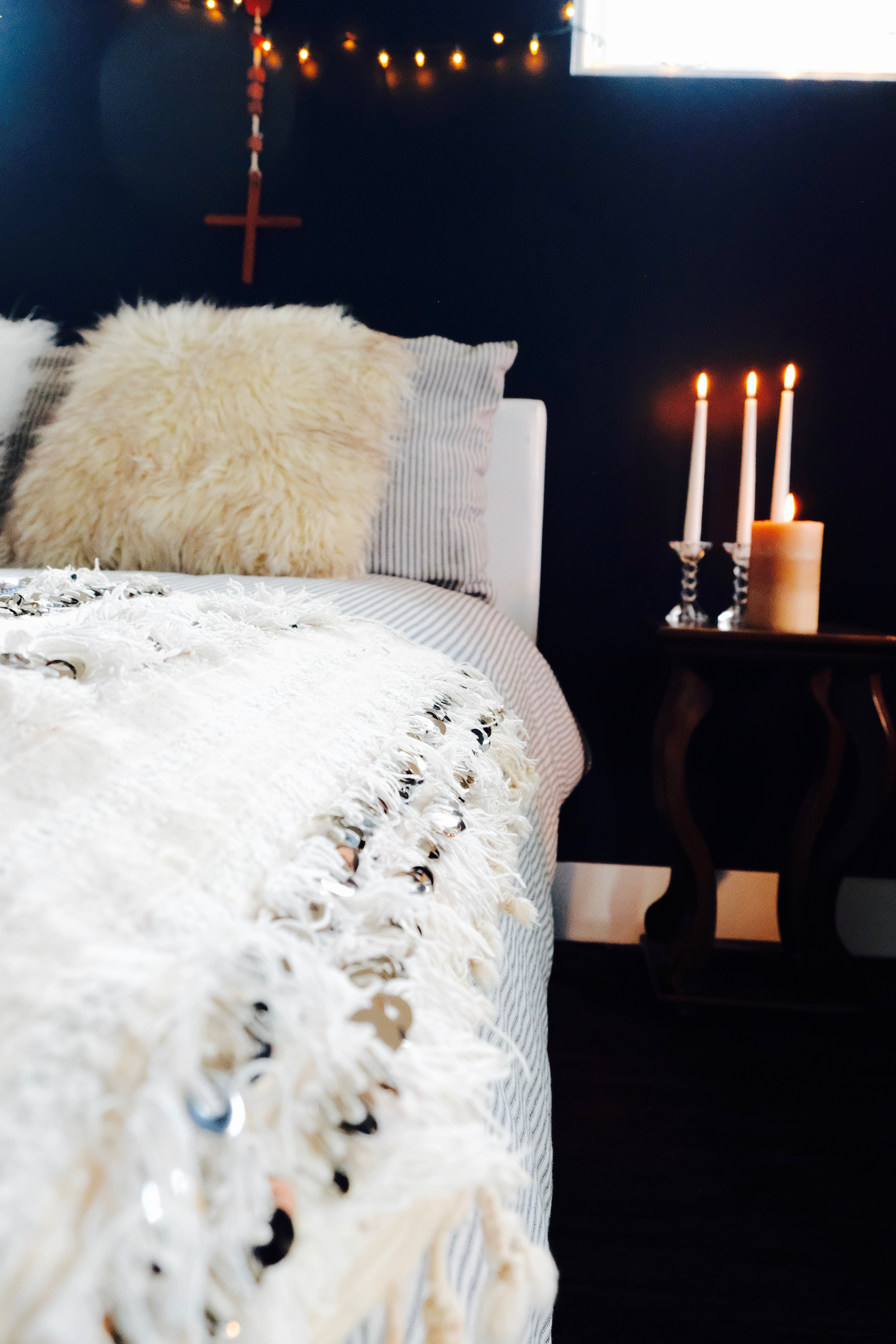 I am a bit of a magpie at heart, though, and I like a few spangles and sparkles. I scooped up a Moroccan wedding blanket a few years ago, when I felt like I was the only person in the world who had one. I like furry & plush everything—throws, rugs, tufts. I keep candles lit and, while I don't keep my work-style arrangements in the home, I like jasmine for a bedside table, and fragrant blooms, like narcissi and apple blossom, for the bathroom. Sometimes I forage or source beautiful branches, and I like those in tall spaces, like a foyer. I like to have something ultra feminine, like flowers and incense, to give the room some spirit.
I also love humor, irony, and irreverence. I dislike things that are straight-up pretty, precious, perfect, or humorless. Spunk matters to me, in every way. Hence the Aries ram head, the Swedish blanket. The sort of ironic, and sort of earnest collection of boots. Irony gets me through the day, and I love an element of it in design.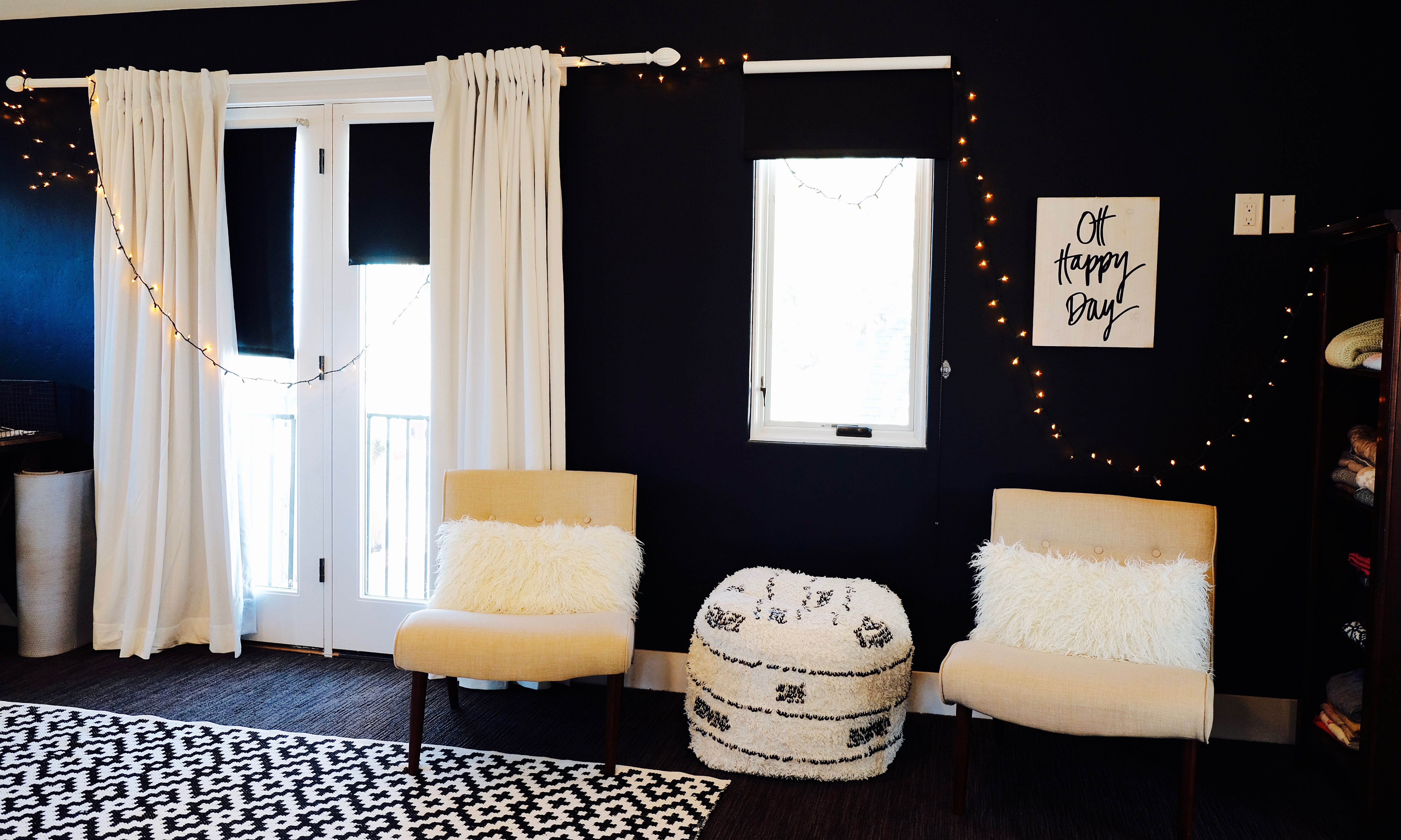 As for the specifics of my space. The apartment is an addition to and part of the restoration project of a home built in 1939. My family renovated and reconceived the space from structure to spirit, raising 8' ceilings to 30', and keeping only the most resonant features—like the original adobe fireplace– intact. The end result is a Mediterranean home with personal imprints everywhere—from the Aspen logs my dad selected and engineered as beams, to the long gallery wall, and the art gallery tiles on the staircase.
A breezeway and bar area leads to my apartment. As evidenced by the empty wine racks, I don't really drink, nor do I entertain much, so I have dreams of setting up a floral table & cooler, and making this a makeshift studio space. This is in keeping with my daily routine and my living space, which is all about creative living.
The wall color for the primary space is Soot by Benjamin Moore. I realize that may not seem like the most rejuvenating color, but for me… it kind of is. I work with flowers all day long, and sometimes it can all get to be so pretty. My home palette is like a reset. The barn door, meanwhile, was painted with a mixture of grays, whites, and a rich American blue. Decor elements tend to have a warm, wood feeling, like the heavy wooden rosary, one of my most cherished possessions.
Most everything else is black, including the kitchen's little octagon tiles, which I adore. By the way, I don't cook at all, so the kitchen is for elaborate tea ceremonies. For me!!! I have such a life.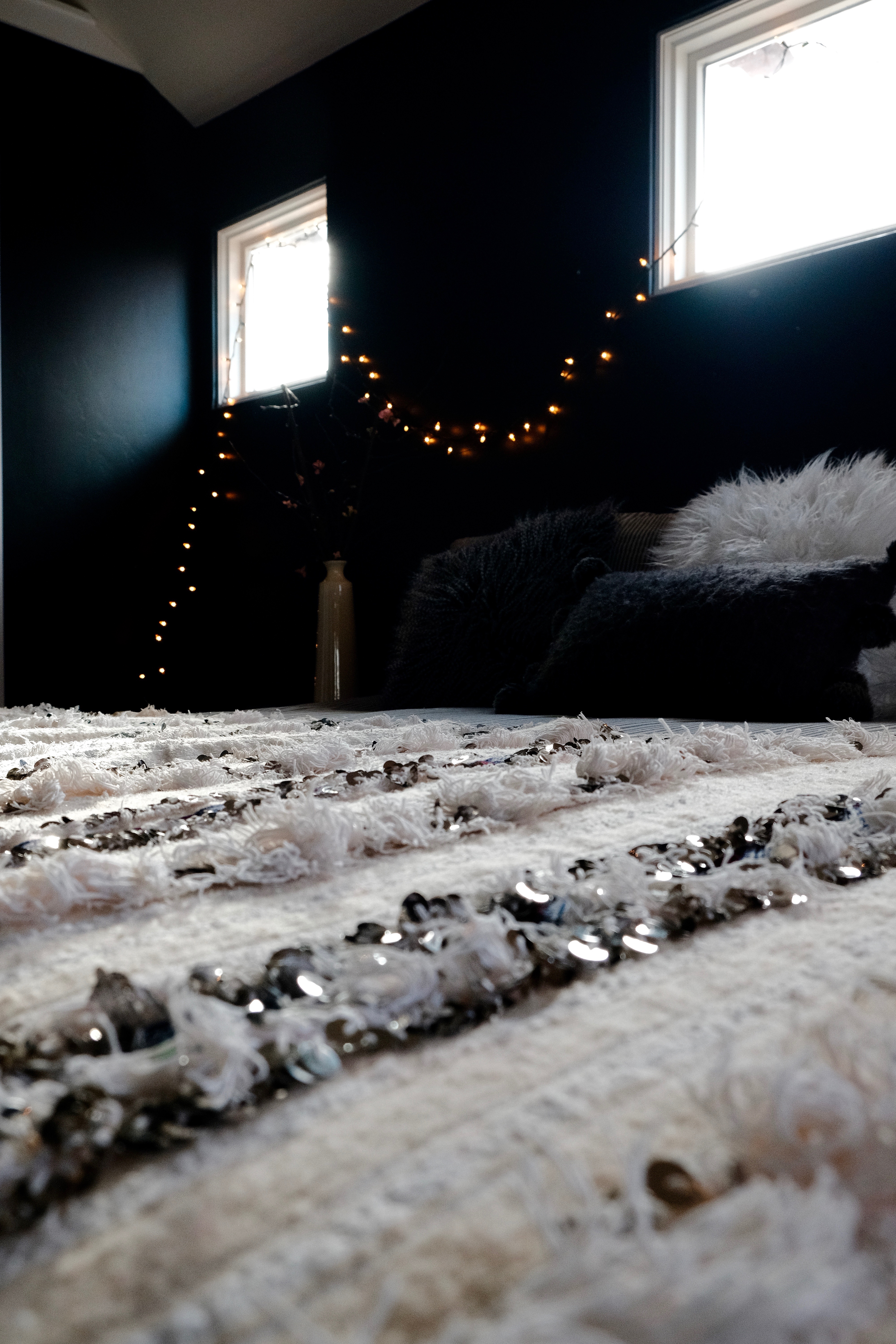 But the most interesting parts of spaces are how you live in them, and I like the kind of rhythm I have here. Every morning, I practice yoga here. At the risk of sounding overly woo-woo, I believe there's something to that—to filling the space with bright, vibrant, graceful, renewed energy. It really does feel as though I am blessing the space, and my day. I want to keep moving and keep creating every day, and the yoga is a symbolic part of that commitment. My practice is devotional, intense, prayerful, playful, graceful, and fun. This space is the perfect place for it. Whether I'm meditating or moving, I love to do it here, with the windows open & the candles lit & the fairy lights on.
This is also the place where I keep my books, my thoughts, where I form my creative desires. I love the words that fill this place. I love having the liberty to pick up any one of most beloved books & my dozen journals, each devoted to a separate topic. Recently, I re-organized all of my papers, and it was all so nostalgic and wonderful. I had to stop often, to look at each bridal bouquet I sketched, all of the wedding notes I made, and the drawings & drafts of the children's book I've never completely written. There are prayer journals & Bible passages, written again and again. Love letters. Ideas for flower projects. I've made so much here, and most of it will never see the light of day, but all that making has shaped me.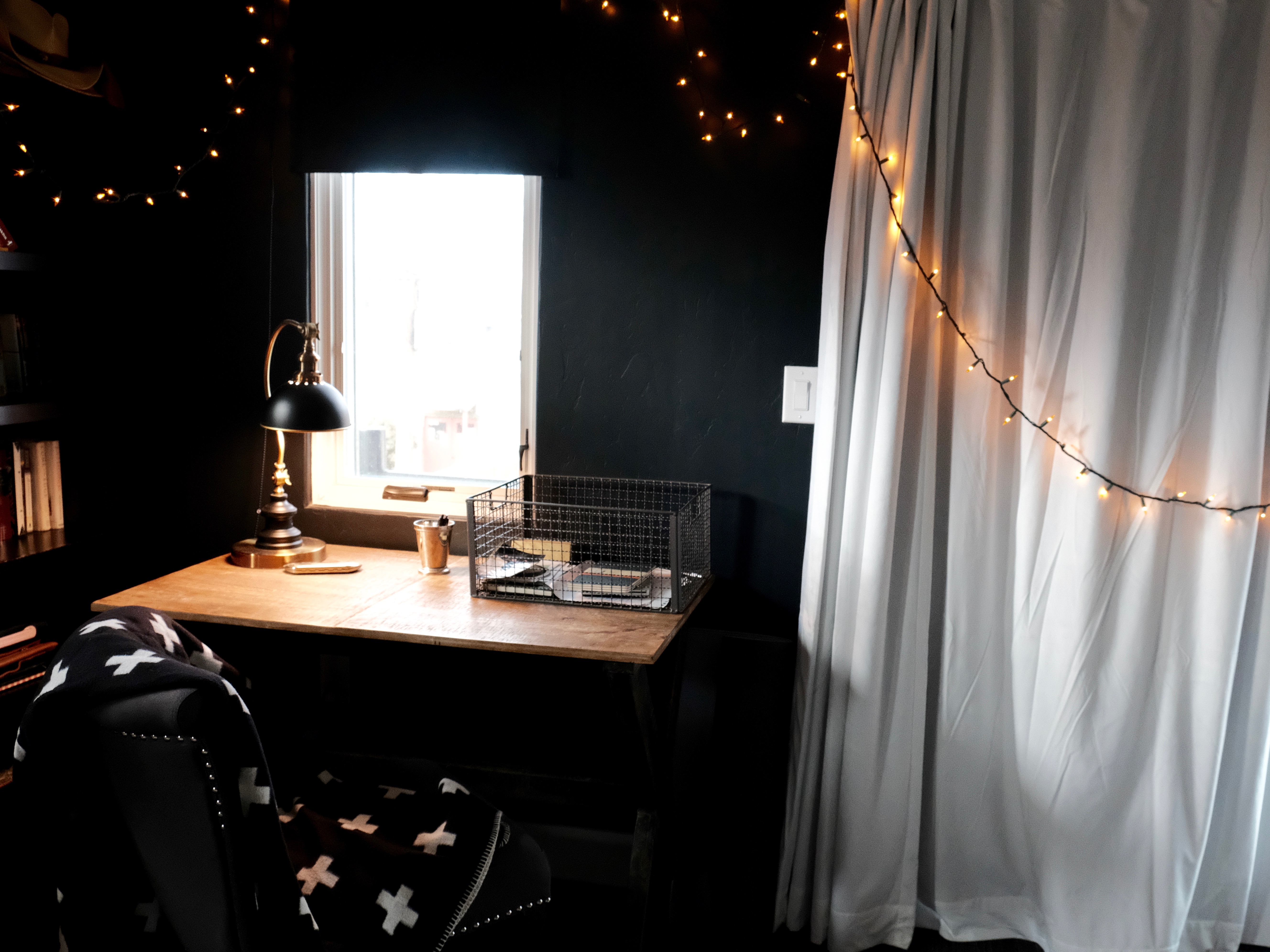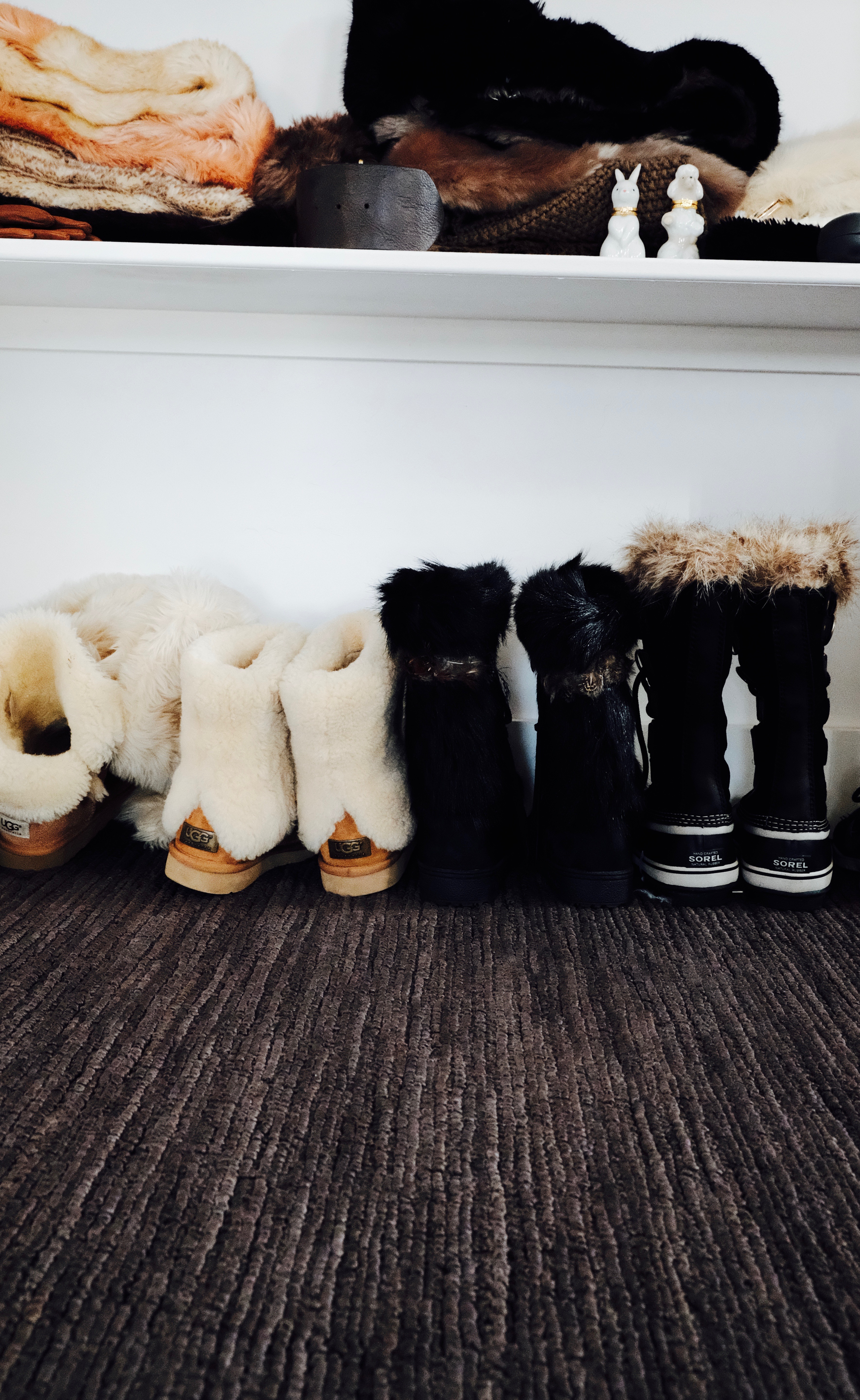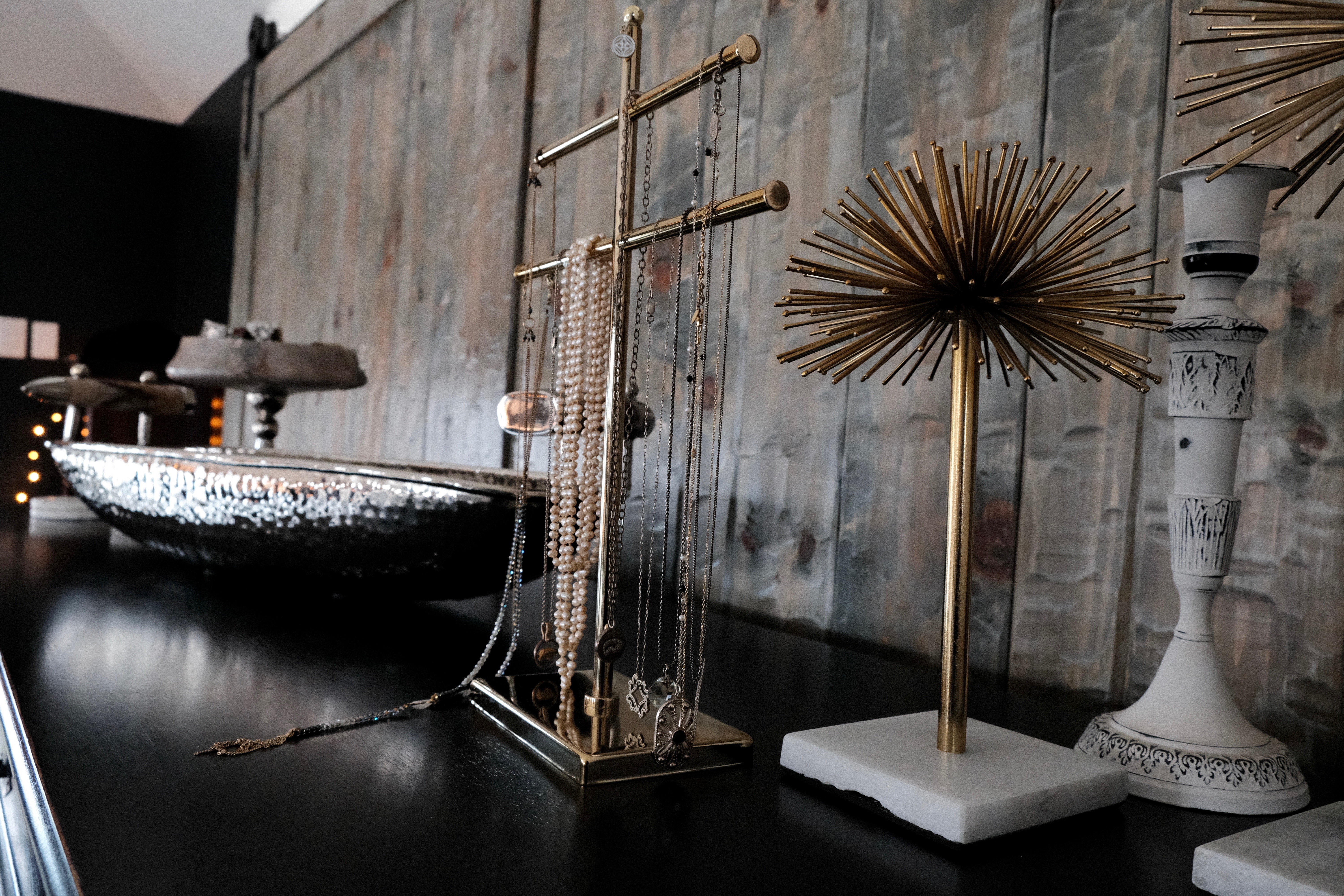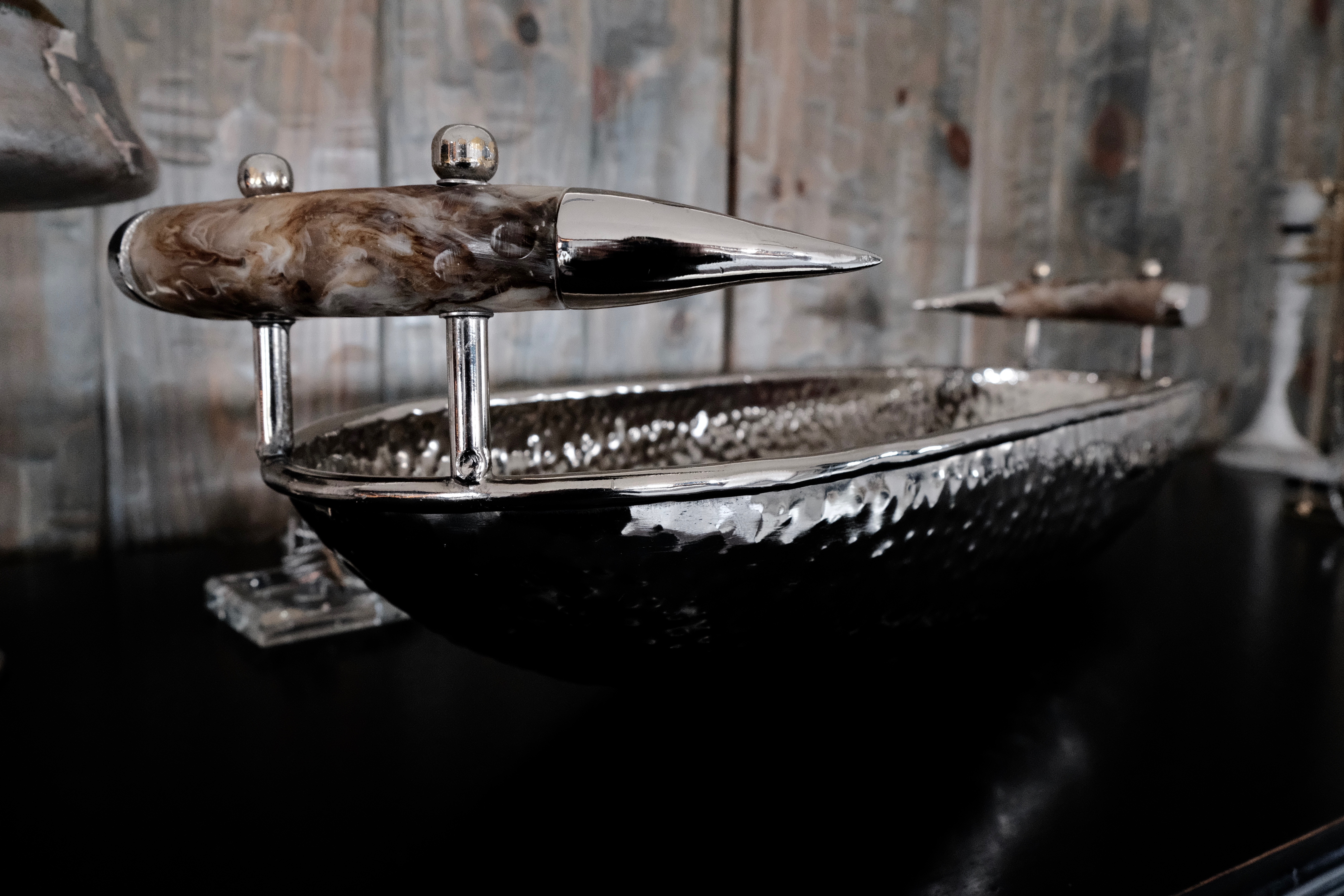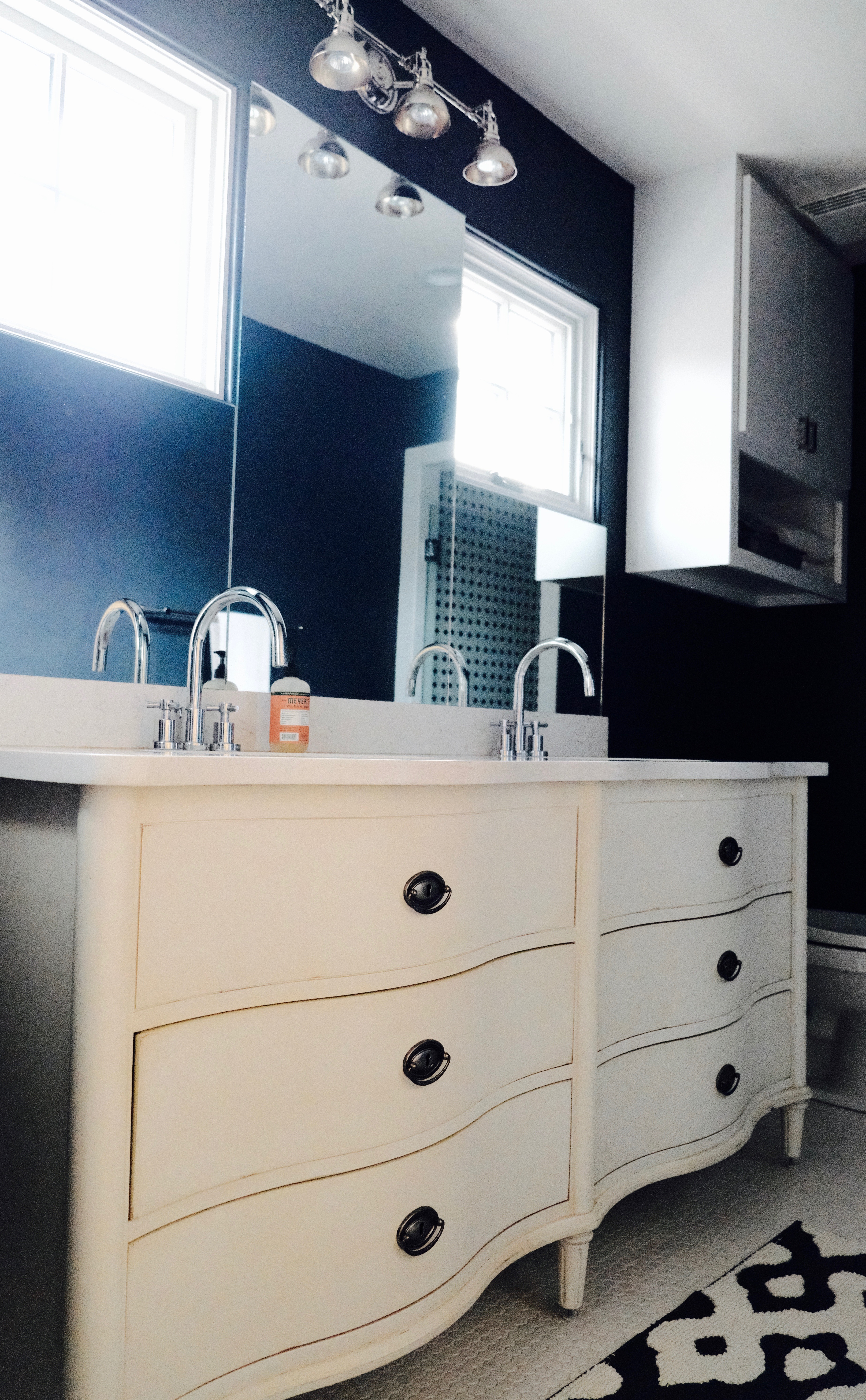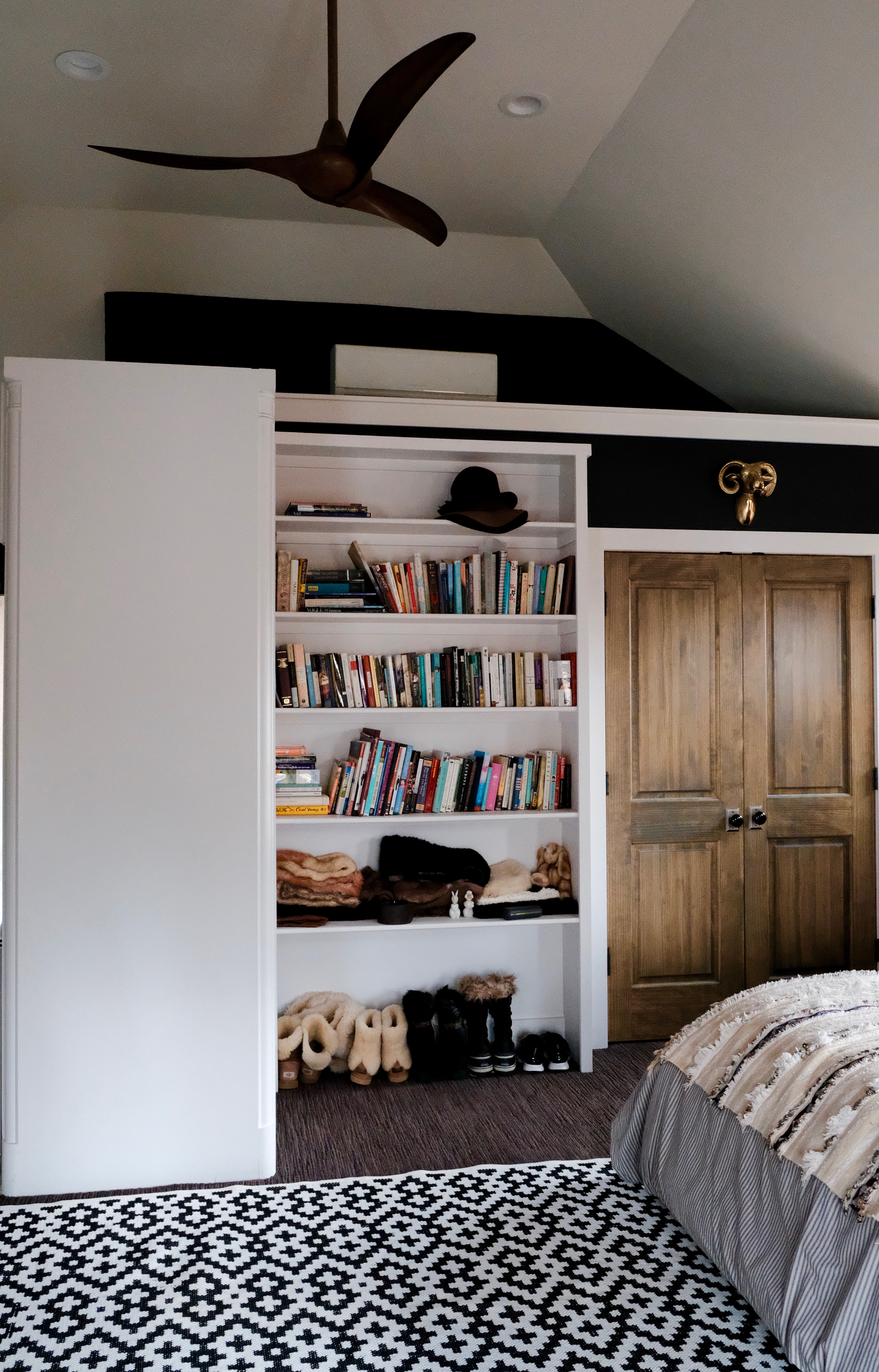 I've read that the home is a sort of container or conduit between your inner life & outer life. It's where you set your intentions, where you pray, where you prepare yourself to go out into the world. This is very true, for me. This space holds my prayers & private intentions. It's here that I figure out how I want to live. Behind the scenes is where a soul and life is shaped. And so each day I'm reading, reflecting, and moving my way into the shape of beauty & creativity & integrity. I'm trying to be the best person I can, at home and in the quiet moments, as well as through my work and interactions with others.
I've come to realize that while environment and beauty have a definite effect on me, home really is a state of mind and being. As long as I have fulfilling work, prayer, my yoga practice, my books, my darling dog, and the presence of loved ones, I have a real sense of home. I can find home abroad. I can find it in any quiet moment. And I can find it in a few people, the rare & precious ones with whom I am irrevocably connected.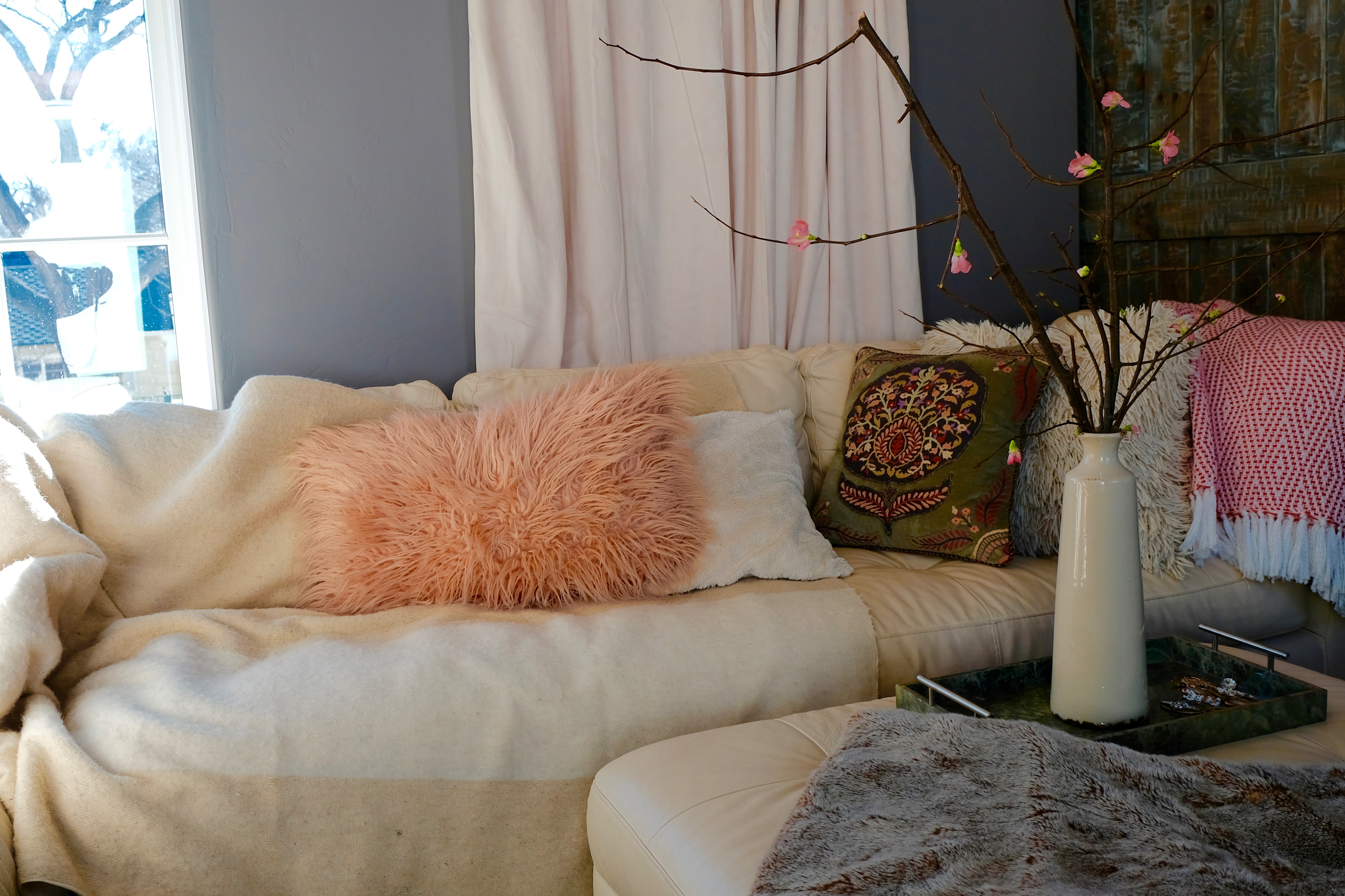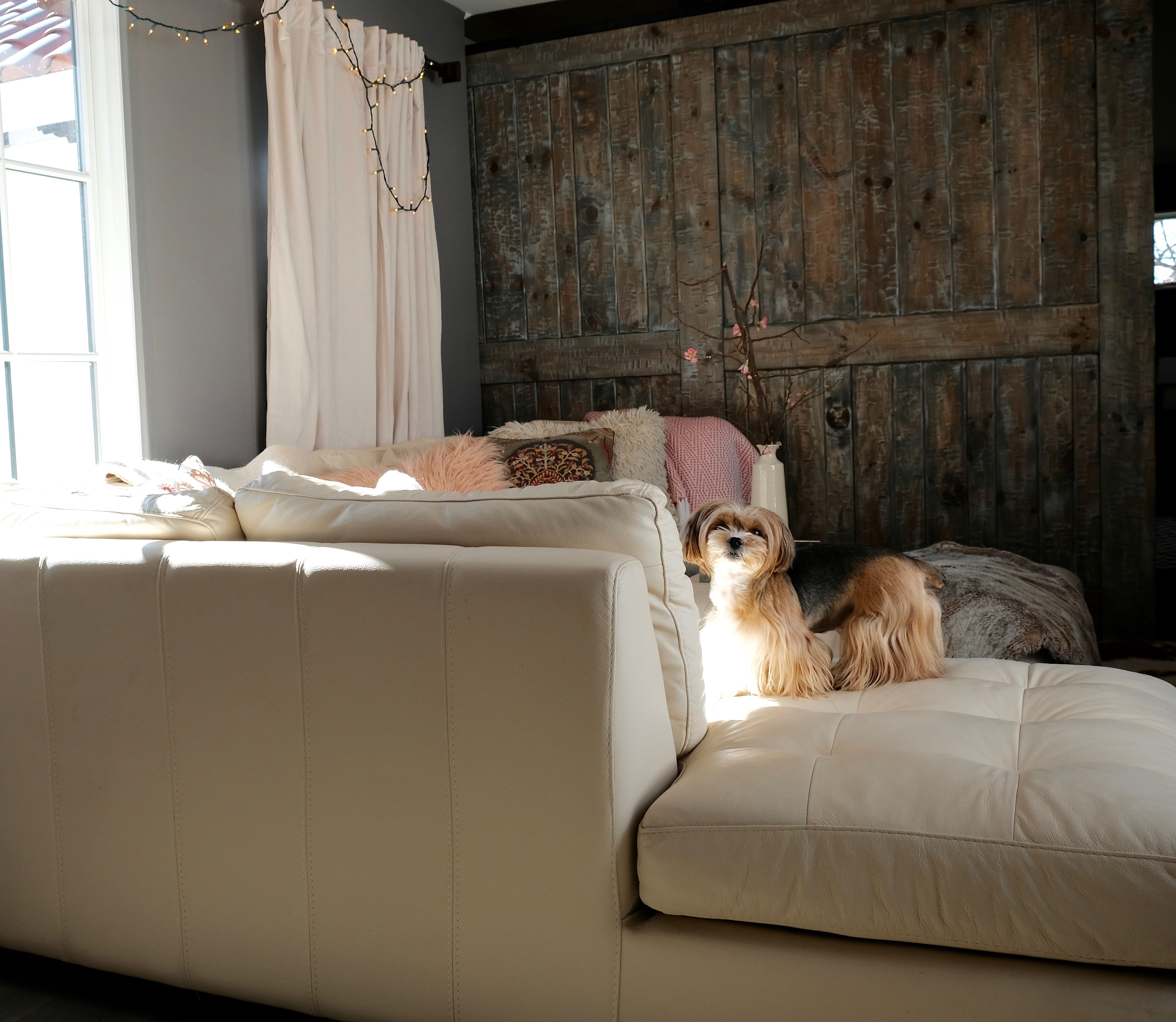 This space is home to all of the studies and practices that I love. And if it doesn't look exactly like the Remodelista home tour of my dreams, it matters very much to me. I am devoted to creative living, devoted living, graceful and expansive living. This space is, I hope, a reflection of that desire.
If you would like to create a space where you can truly relax and restore, I highly recommend local business Joy of Tidy. Owner Jill Masters is a Certified Konmari Consultant, and a true light. She guides her clients through the life-changing process of organizing their home spaces, or "tidying up." The results of tidying can't help but have a positive, ripple effect onto all aspects of one's life– professional, personal, emotional.
We all deserve a space that calms us; a space that brings us joy. I'm a lover of all things KonMari Method, and can't overstate how lucky we are to have a consultant here. Visit Jill's website, www.joytidy.com, to learn more, contact, and book her services.