September is a weird month. Any attraction to the Indian Summer has faded. Still, Fall is nothing more than a dreamland in Vogue magazine. I get restless during this transition. This is especially true sartorially speaking: like everyone else, I'm itching for moto jackets and trench coats, knit dresses, velvet sneaks & boots. I'm forced instead to wear summer shift dresses and chambray. I tire of summer melons & daydream about late season squashes & apples, and a symphony of spices like clove and coriander and cinnamon. I start to play Leonard Cohen and summon autumn melancholy. And I get in the mood for poetry, even more than usual, because everyone knows that poetry reads best in autumn.
But what I want most from fall are its rich colors. These storyboards take their cues from two of my favorite (and unintentionally boozy) palettes: cabernet and gray, and apricot and whiskey. Something interesting happened as I gathered images for each palette; I began to notice that those clothes and objects in 'whiskey' had wildly different personalities than those in 'cabernet.' Maybe this applies to the people who are attracted to either palette? I couldn't help but dream up a day or glimpse in the life of either sort…
Gray & Cabernet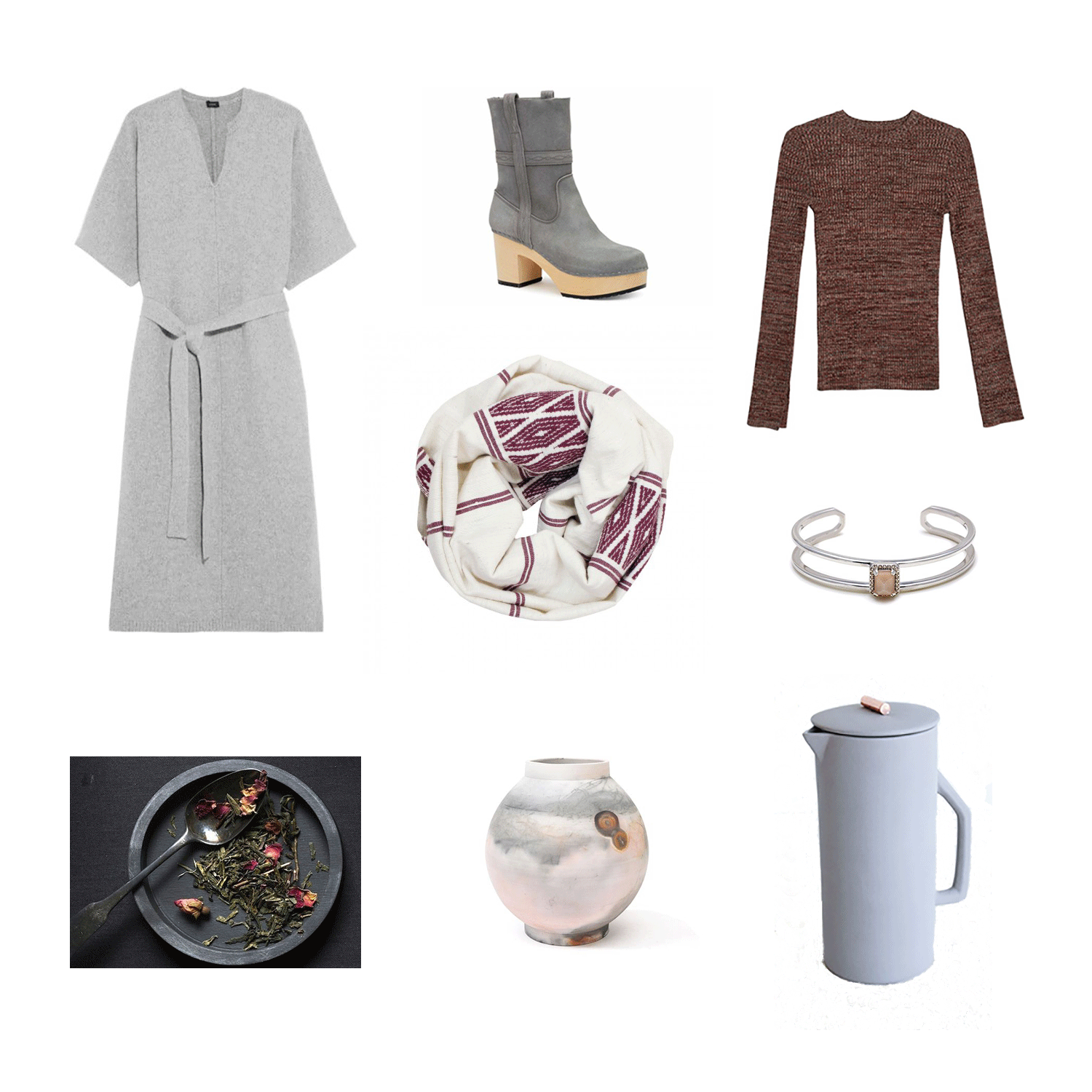 She's a lady. She brews fine tea every morning in a proper kettle. As she checks e-mails on her BlackBerry (yes, BlackBerry), she makes a note to pick up the dry cleaning before 6p. Routine is her MO, from her skincare regimen to her workweek and of course her capsule wardrobe. Her biggest indulgence is a midmorning donut, or a smear of red lipstick on a Tuesday. Her apartment is immaculate and deeply inspired by all things KonMari method. She loves a rose facial steam and ballet documentaries, and on the weekends she takes flower arranging classes. Growing up, she worshipped Princess Diana. She's since then dismissed any fairy tale notions, but she like to feel feminine, opts for ladylike simplicity, and has a great tailor in her contacts list.
On an average day
She brews this bellocq tea
In this French Press
On a table decorated with this flower vase
After teatime she reapplies this lipstick
And throws this tunic on over a crew neck tee
And patterned scarf
Whilst sliding into these boots
And slipping on this bracelet
All while reading her planner, to which she is tethered.
Apricot/Whiskey
(or shall I say 'whisky,' if it's the Scotch stuff you like!)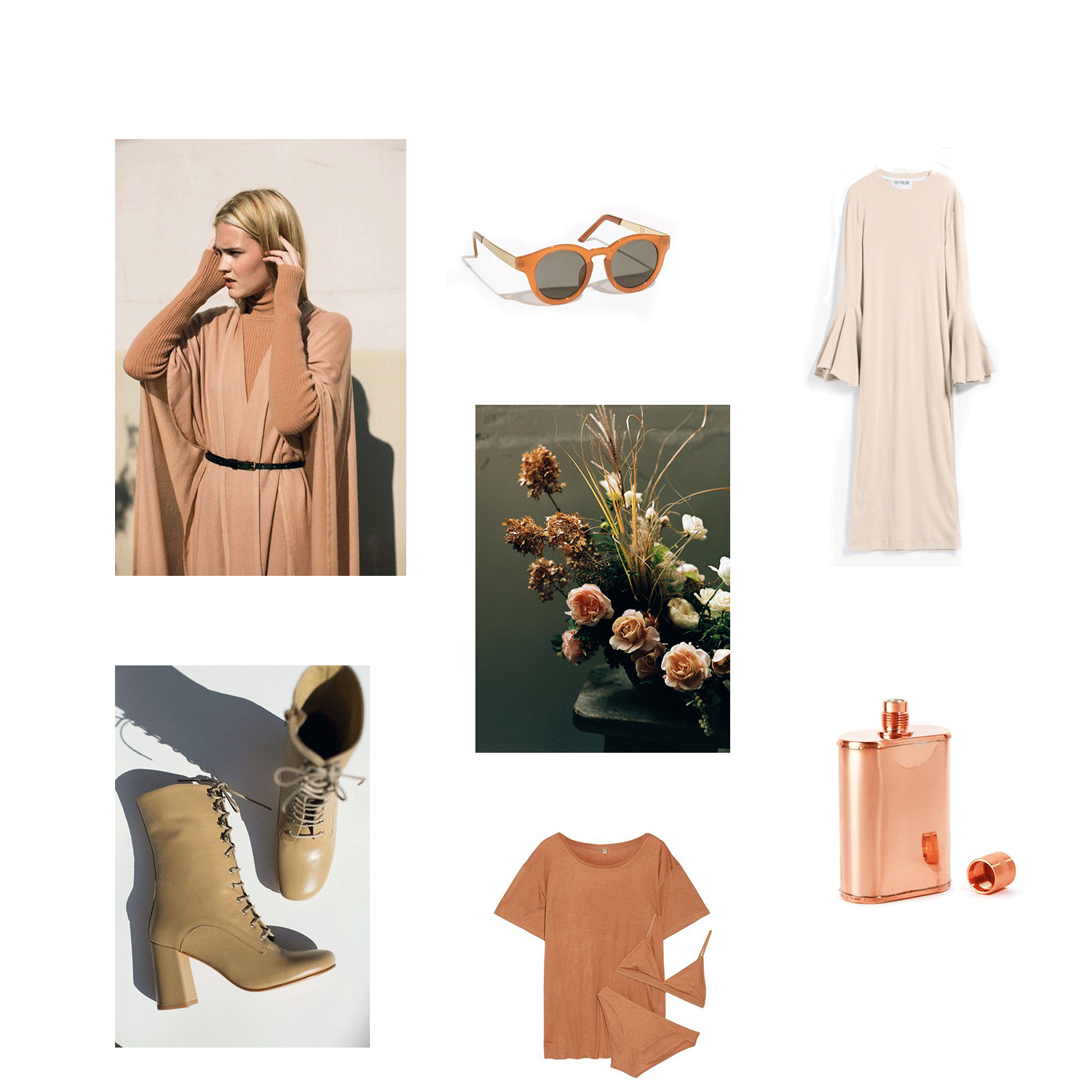 Is for the mellower types. The girl who has bronde hair and beach waves without ever having made recourse to Pinterest (ewwww). Hers is a haphazard little apartment with the key social features—record player, bar cart, handira pillows, and a distinctly Indian pantry. Her passport has, within the past year, been stamped in Iceland (and peruandfranceandchileandnewzealandandsweden). She likes live music and hates the concept of nesting.
On an average day
She wears this poncho
With this knit dress
And these ridiculous shades
…and boots
She has this flask for no conceivable reason
And likes crazy flowers like this
And which am I, you ask? Aesthetically speaking, I'm a whiskey. Internally, undoubtedly, I'm a cabernet.
P.s.- Does anyone want to plan a wedding in these colors? Pleeeease?