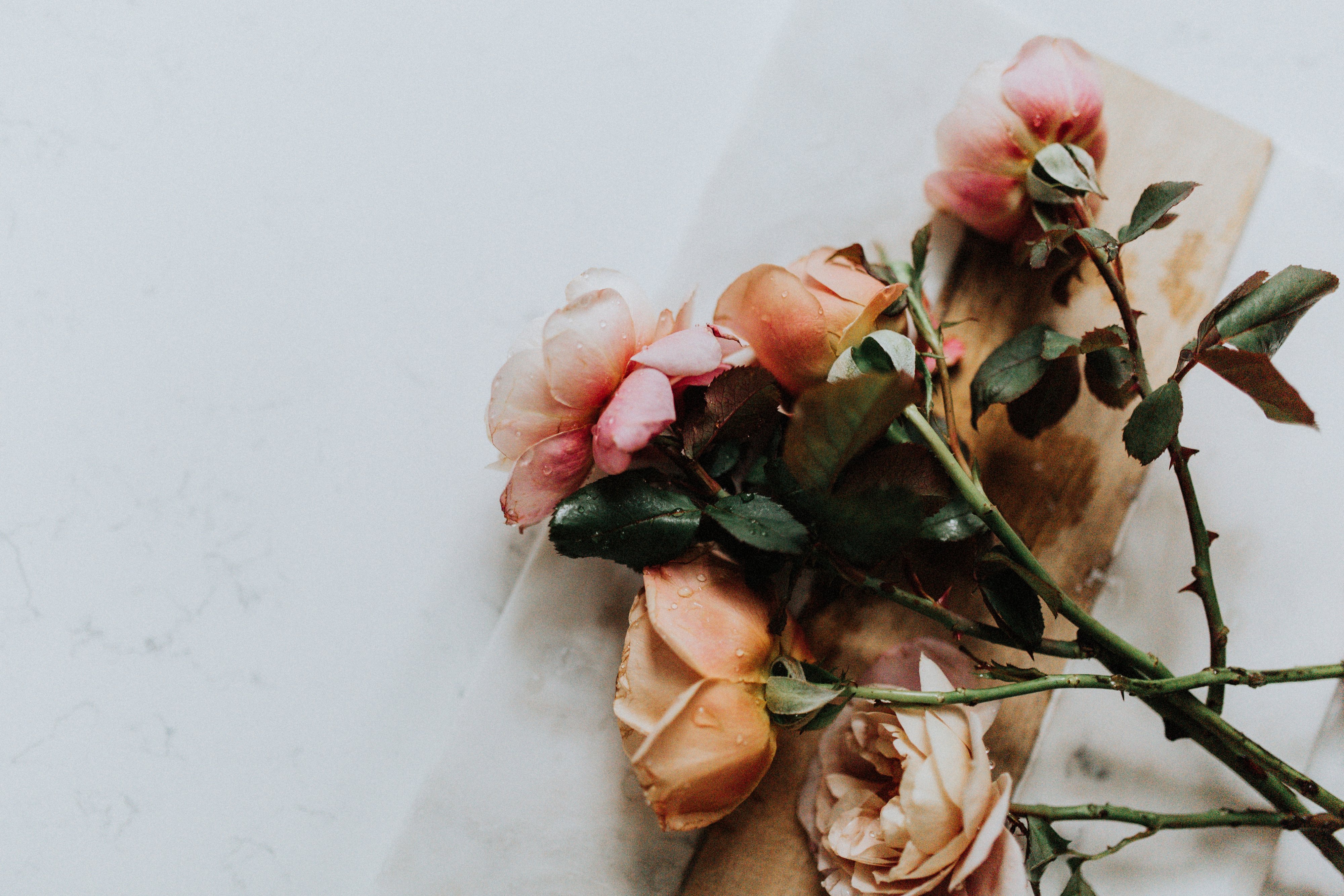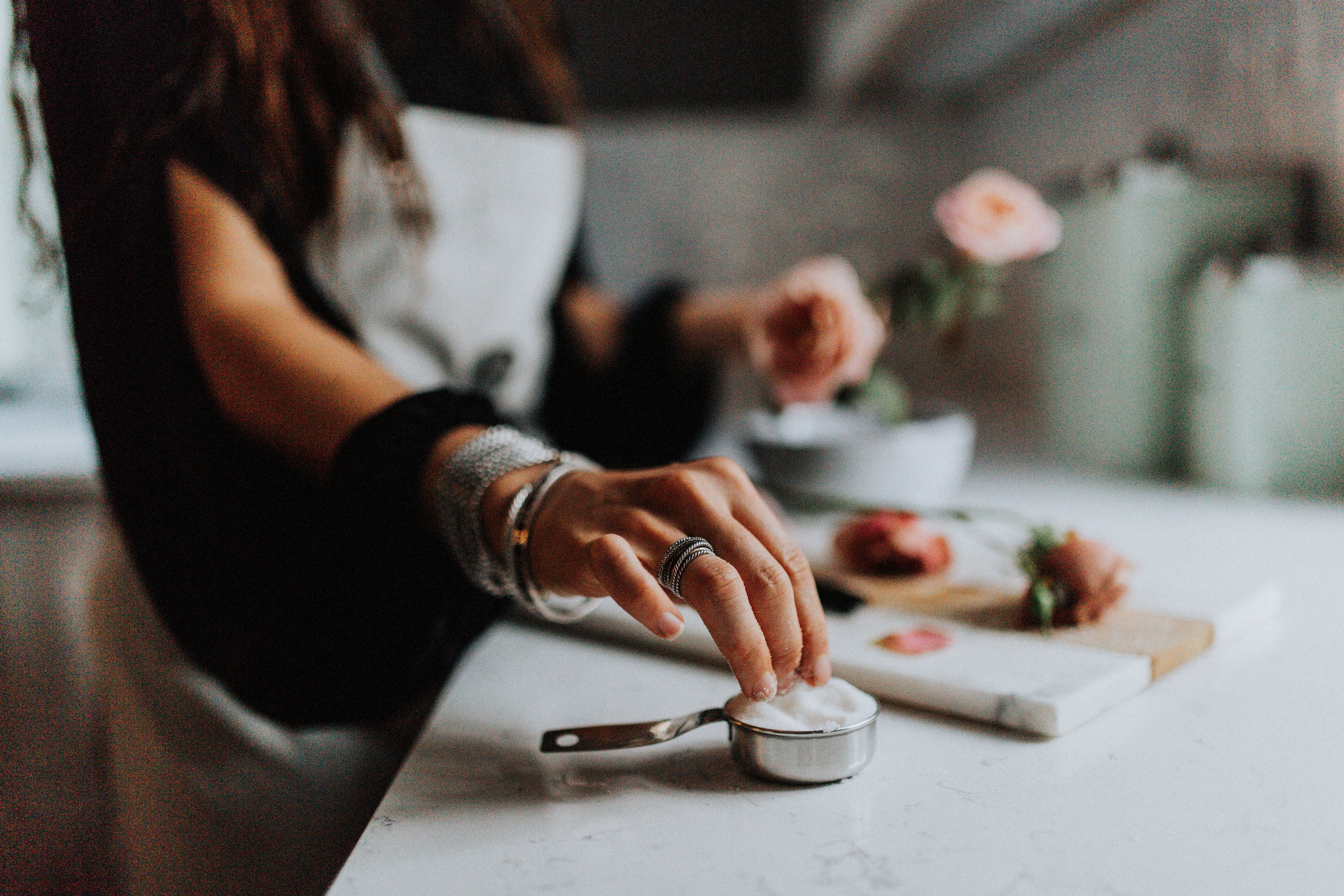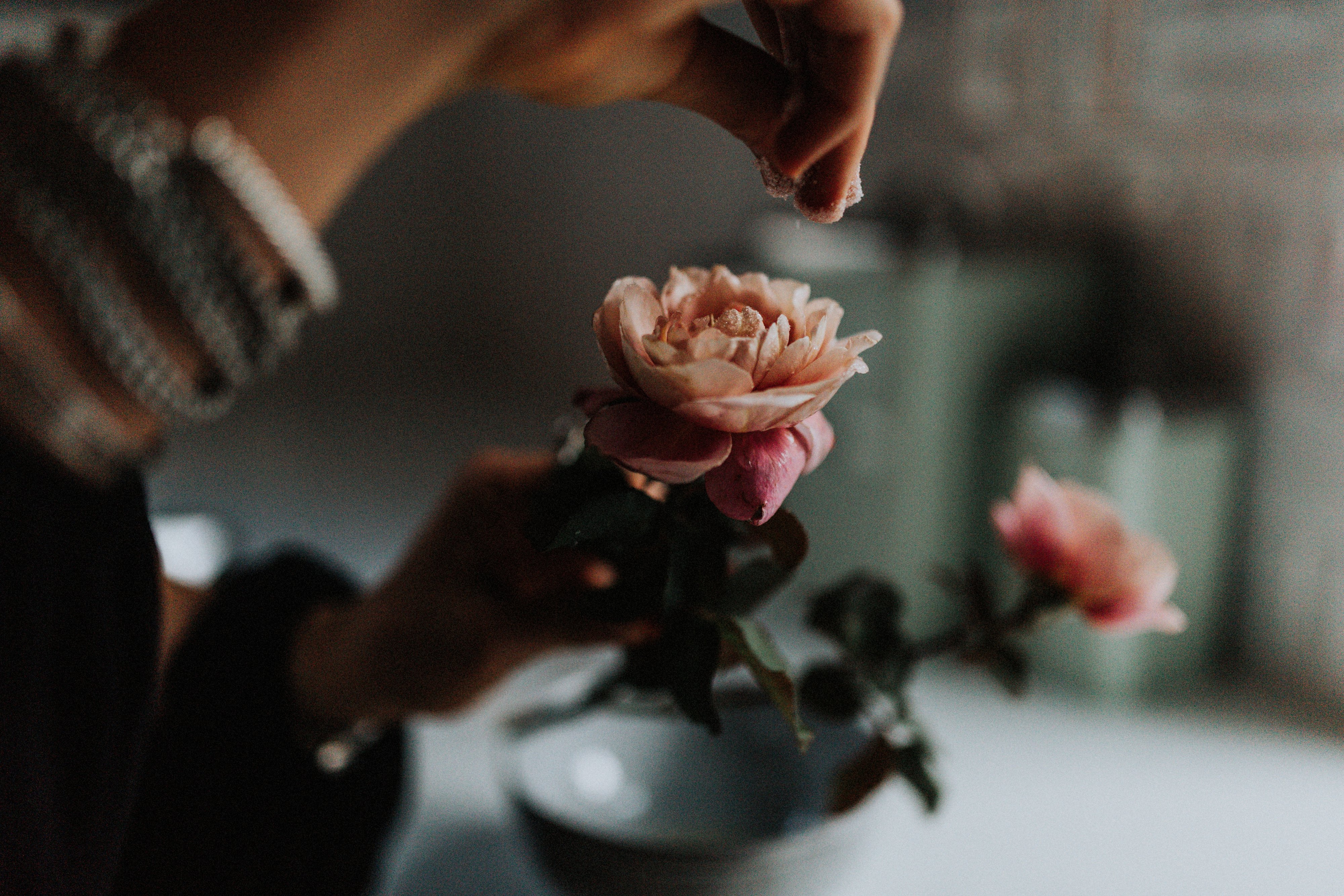 Anyone who knows me well knows that I enamored with the French countryside. 'Enamored' doesn't really even cut it. On quiet evenings, I'll look at photographs of French villages (St. Estèphe is my current obsession—a little village overlooking the banks of the Gironde estuary. It's known for its wines, but I love to imagine the tiny square with only a chapel, a wine store, a butcher, a baker to its name.). I read about French cooking and sometimes, when I am ambitious, practice French verbs. Most people know of my dream to travel to Provence for work—a wedding, or a workshop, where I can work with seasonal flowers, lavender, and all manner of forages (maybe even the flowers that, come summertime, cover the banks of the Gironde estuary). Every boyfriend has listened to the raptures & effusions about the French countryside. One thought it was cute and, to humor me, ordered a glass of rosé. Two promised to take me there. One mispronounced 'Provence' and I got irritated and just never thought about him again. The most, um, ill-suited of the bunch suggested I give up talking about the "South tip of France" (his phrasing, not mine) in favor of simpler pleasures like, say, baseball, and beer (womp womp). I'll consider marrying the one that finally takes me there.
It all began when I read Kim Sunée's memoir, A Trail of Crumbs, a book about food, love, identity, and longing for home. Its best scenes unfold in Provence, where Sunée lives with her companion Olivier Baussan. There are landscapes full of lavender, ancient olive, and citrus, and when the winds change, the home is filled with scent of the Mediterranean. It wouldn't be overstatement to say that that book has shaped my views on experience, travel, and food; that it has informed my aesthetic preferences, to say nothing of my views on writing. But more than anything, it gave me a love for the Provencal way of doing things. For good linens that you buy once and use forever. For meals that you fret over all day, if only for the promise of a meaningful conversation. For markets and seasonal food. For dressing for both elegance and utility. It's a highbrow take on simplicity that I love, and it extends to the home and its maintenance, to shopping the market, picking flowers, and mealtime rituals. All the little motions that, added together, make up a life.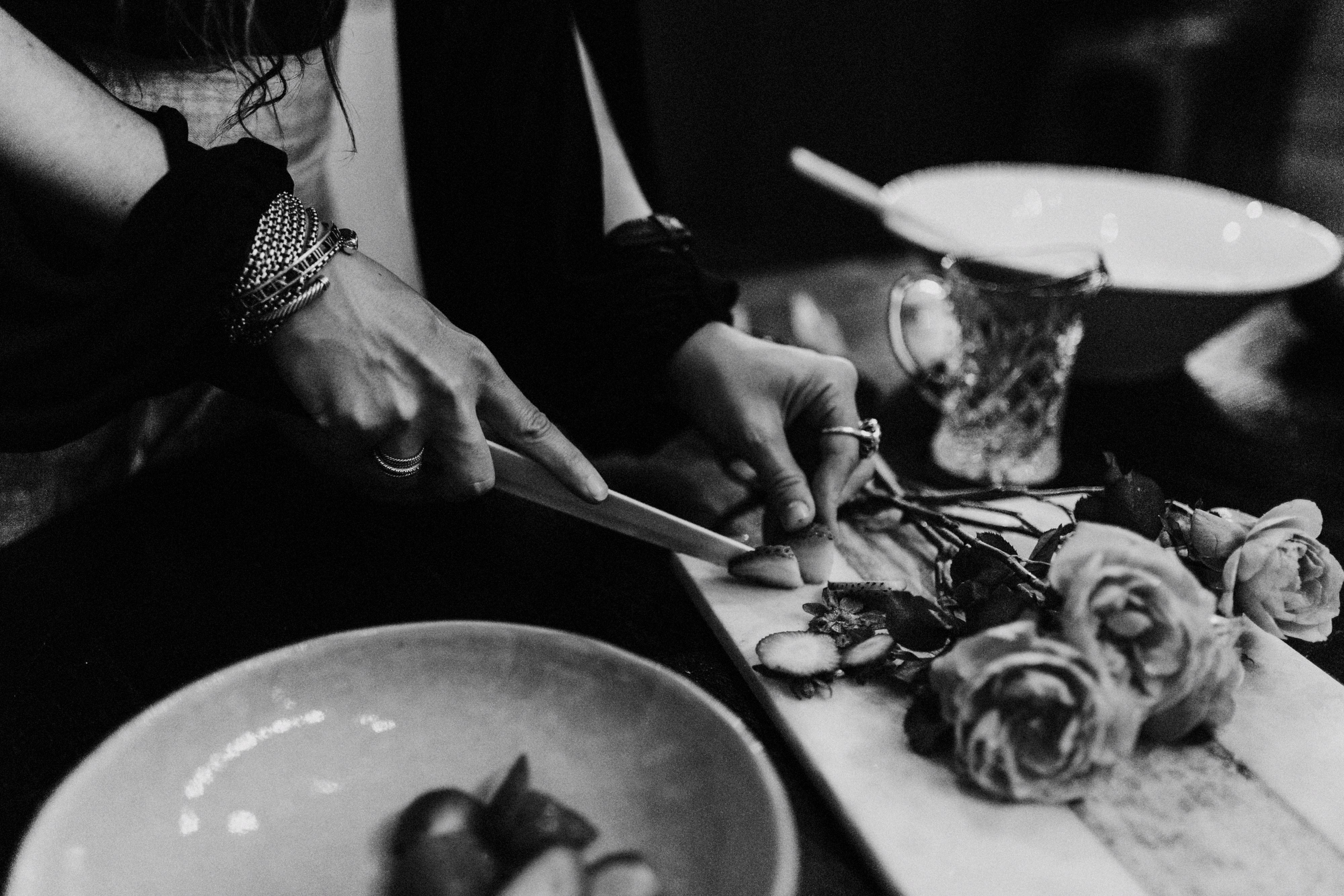 These views are evocatively French but universally admirable—for me, opting for a 'simplistic' style is, ideally, about freeing up time for family, communion, and love. A pared down table leaves room for the people and the conversations that happen there. Simple, quality décor has a way of illuminating a home's finer qualities—its bones and its history. And a meal full of only the most essential ingredients is one that promotes health, happiness, and a certain purity of experience. Perhaps it's because I have a tendency to excess (writing too much, doing too much, trying too hard) that I'm wont to fixate on simplicity; that's just the way these things go. But I do admire the kind of simplicity that's comes from knowing every single option, and choosing only the best. It feels informed, smart, exacting, and inspired. It feels pretty French.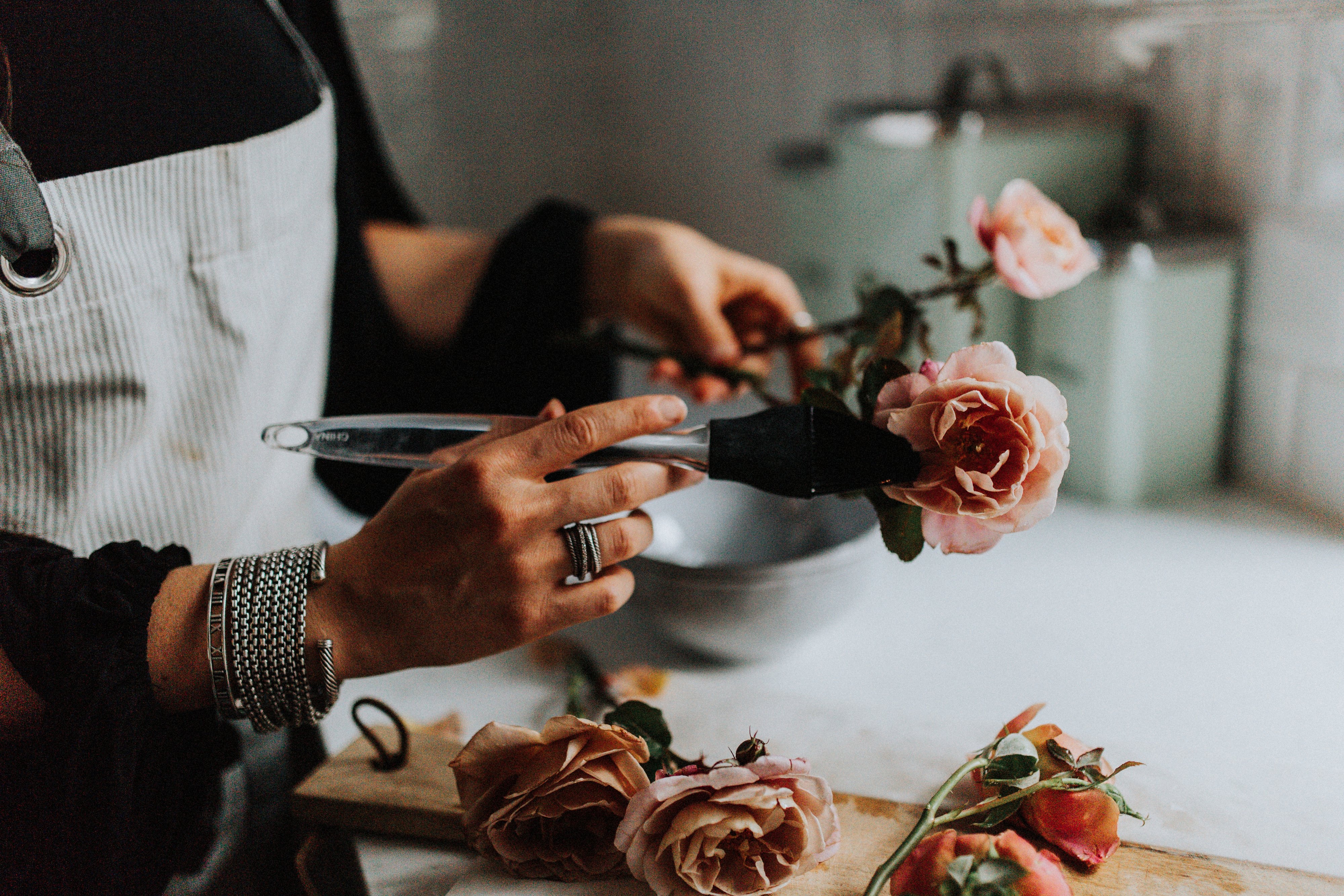 It is no surprise, then, that some years after becoming a Francophile, I found and instantly fell in love with Mimi Thorisson's blog, Manger. That diary is recorded in Médoc—a land of vineyards and storied châteaux, of open- air markets and conversations that feel lost in time. Mimi is the mistress of her own chateau, the author of two fine cookbooks, and the conductress of big, seasonal, classically French meals. She draws delightful comparisons between Proust and her baby daughter, dark chocolate mendiants and Grimm's fairytales. Her insight extends to the French take on mushrooms, the ideal black dress, and the narcotic properties of black radishes. Her husband photographs her work, her children accompany her in the kitchen, and very handsome hunting dogs run hither and thither through house and forest and market and back again. There are little field trips to white beaches with tall swaying grasses, and pine forests, and the flower fields of (yes) St. Estèphe. It's all much, in the best way. And it totally feeds my obsession with the French style of cooking, entertaining, dressing, and being. Attainable stuff? Not in the slightest. But aspirational? Inspirational? Totally.
The irony of all of this is that, for all of my love for reading food diaries, I can't cook my way out of a paper bag. I enjoy a beautiful meal, and all that it ideally stands for: how food can be a springboard to learning a place, a culture, a person. Still, I'm lost in the kitchen, lost when it comes to execute and transform these ideals into an actual meal. With ingredients and ovens and measurements and things to navigate, I'm helpless. In my mind, I can see that I would be a great and sensitive choreographer of flavors and experiences. I can set a table with the best of 'em. I can hold sway over several conversations, and drink in candlelight 'til kingdom come. But actually cook? I can't. I am unmoored by the process.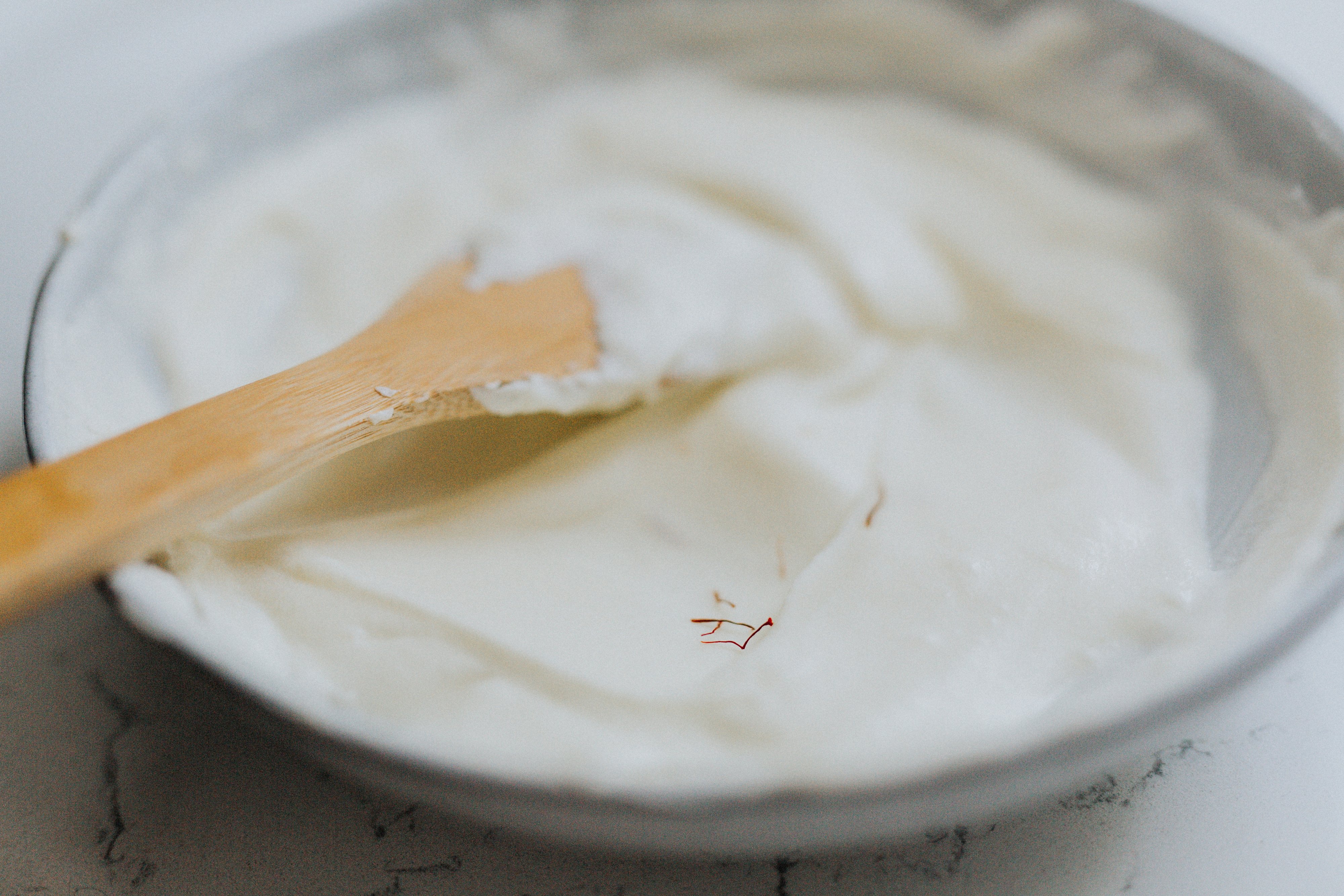 No wonder I look up to these worldly, well- traveled women who are, astonishingly, also goddesses of the hearth. What I admire most isn't their skill. It's that their cooking is smart: savvy, literary, and filled with riches of life experience. They slip secrets from their travels into their cast iron skillets. They lace in spices & flavors from far-flung corners of the world, and make recourse to the ways of this or that country. Their meals are filled with so many intangible souvenirs (a phrase coined by Beth Kirby, another traveling, styling, literary cooking goddess I adore). I just make a plate of cut up vegetables and hummus, fire up my Mac, and am in awe.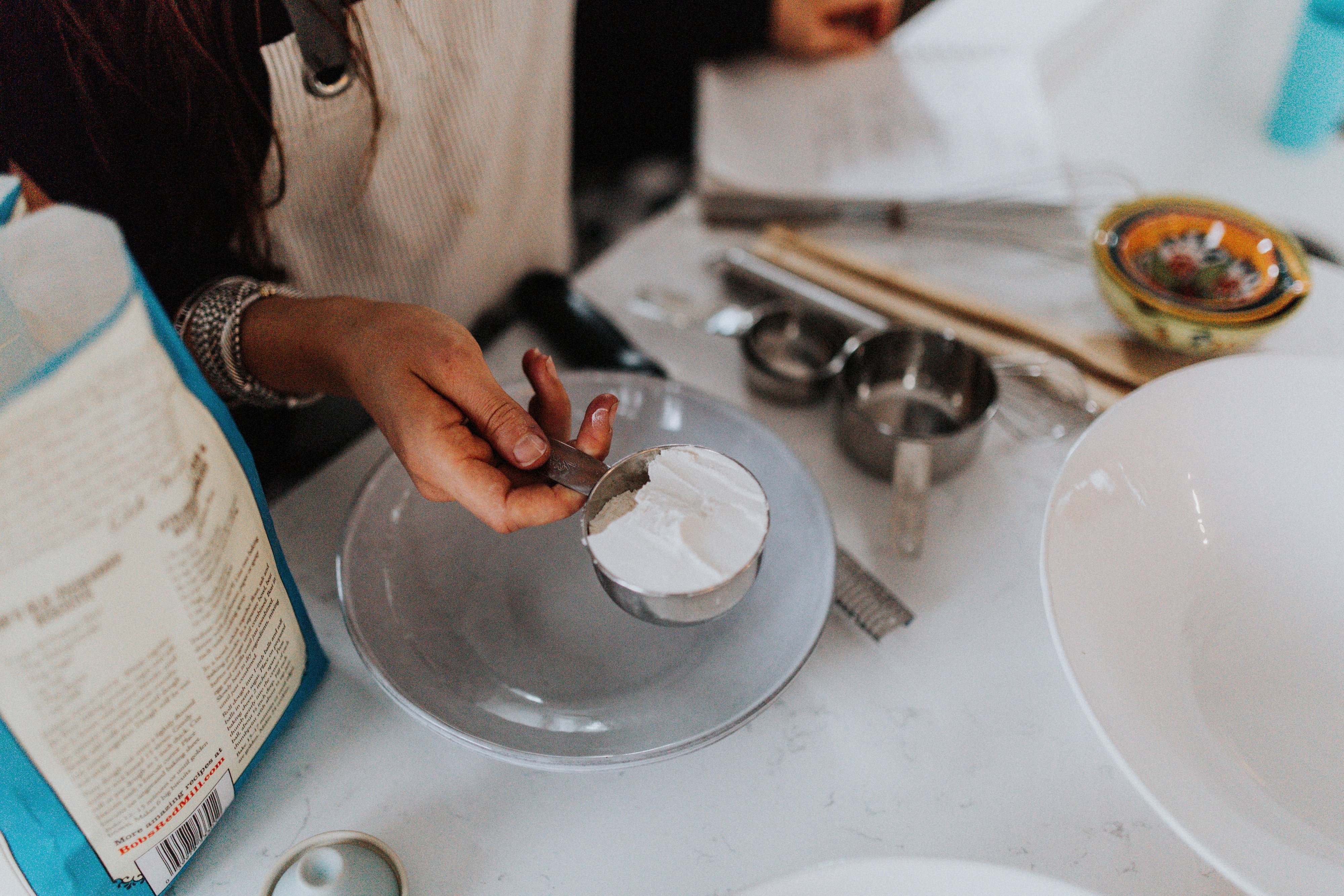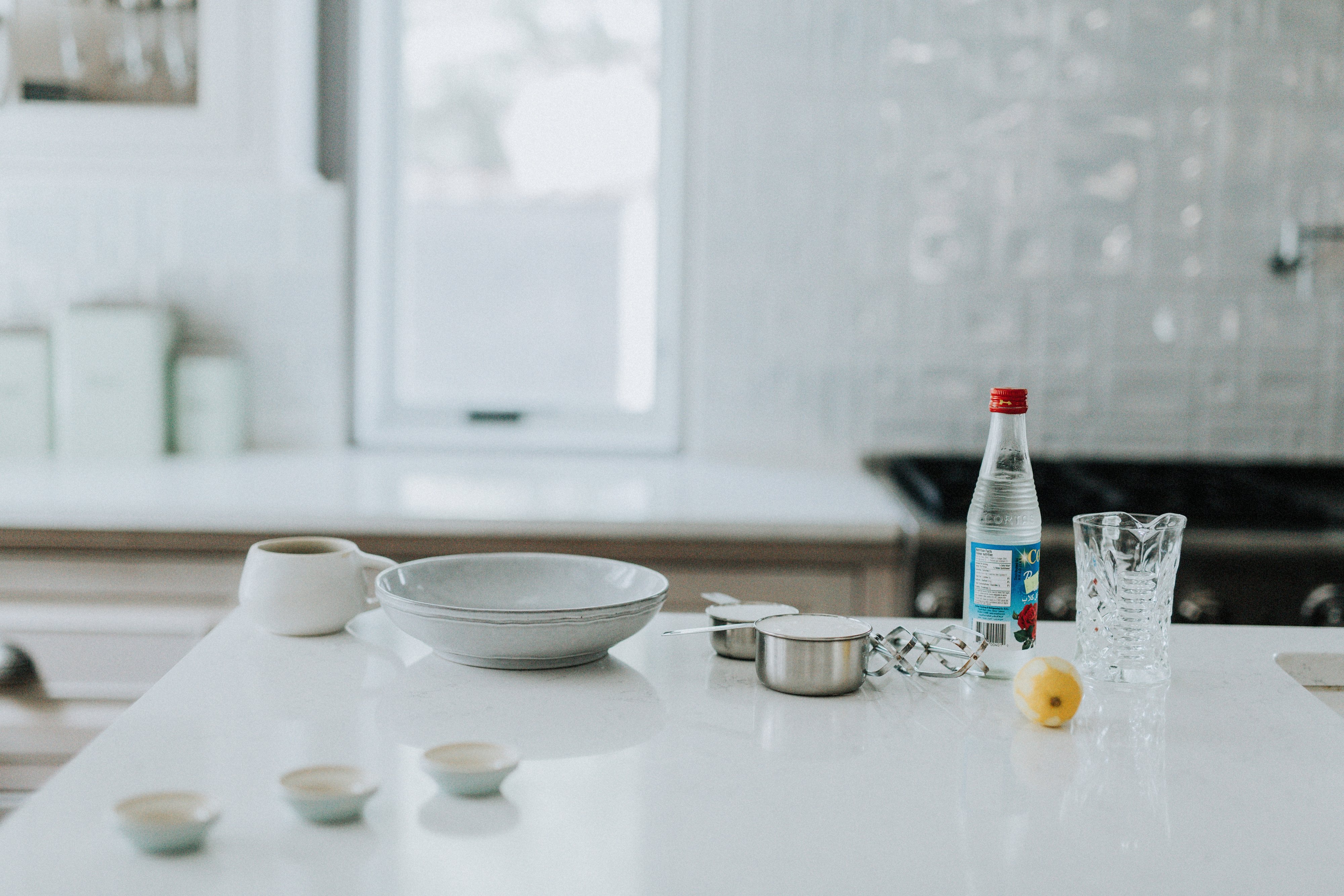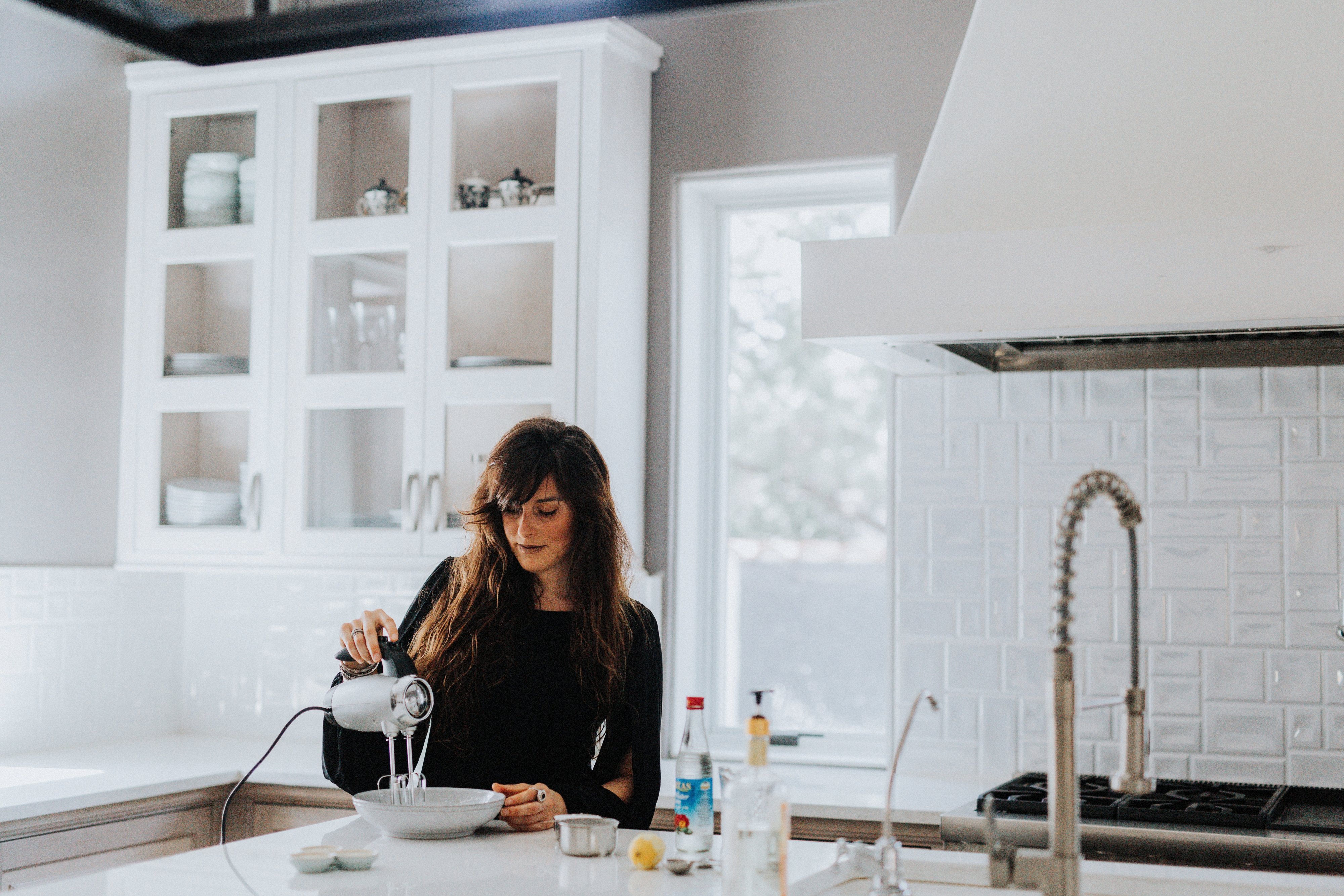 But I do want to do better than cut vegetables & hummus, and truth be known, I can bake quite well. I think it's because I have, with baking, the promise of something pretty at the end—something warm and fragrant from the oven that I can decorate with flowers. When it came to choosing a recipe for my journal, Mimi's Persian Love Cake spoke to my every sensibility. It's filled with exotic, worldly flavors and surprising twists, like pistachios buried in cream. There is the use of rose water and saffron (it feels so forbidden and wonderful to hold something like saffron in your hands). Then there is this whole bit where I get to coat flower petals in egg white, and sprinkle sugar on top. The cake is finished off with frosting that, with its warm, candlelight color, seems to glow. Visually, I was compelled, but then Mimi reprinted the cake's gorgeous backstory, something about Cleopatra burning cardamom for Mark Antony. And I, I am powerless before a good story, even a good cake story. The cake was in every way a Yes.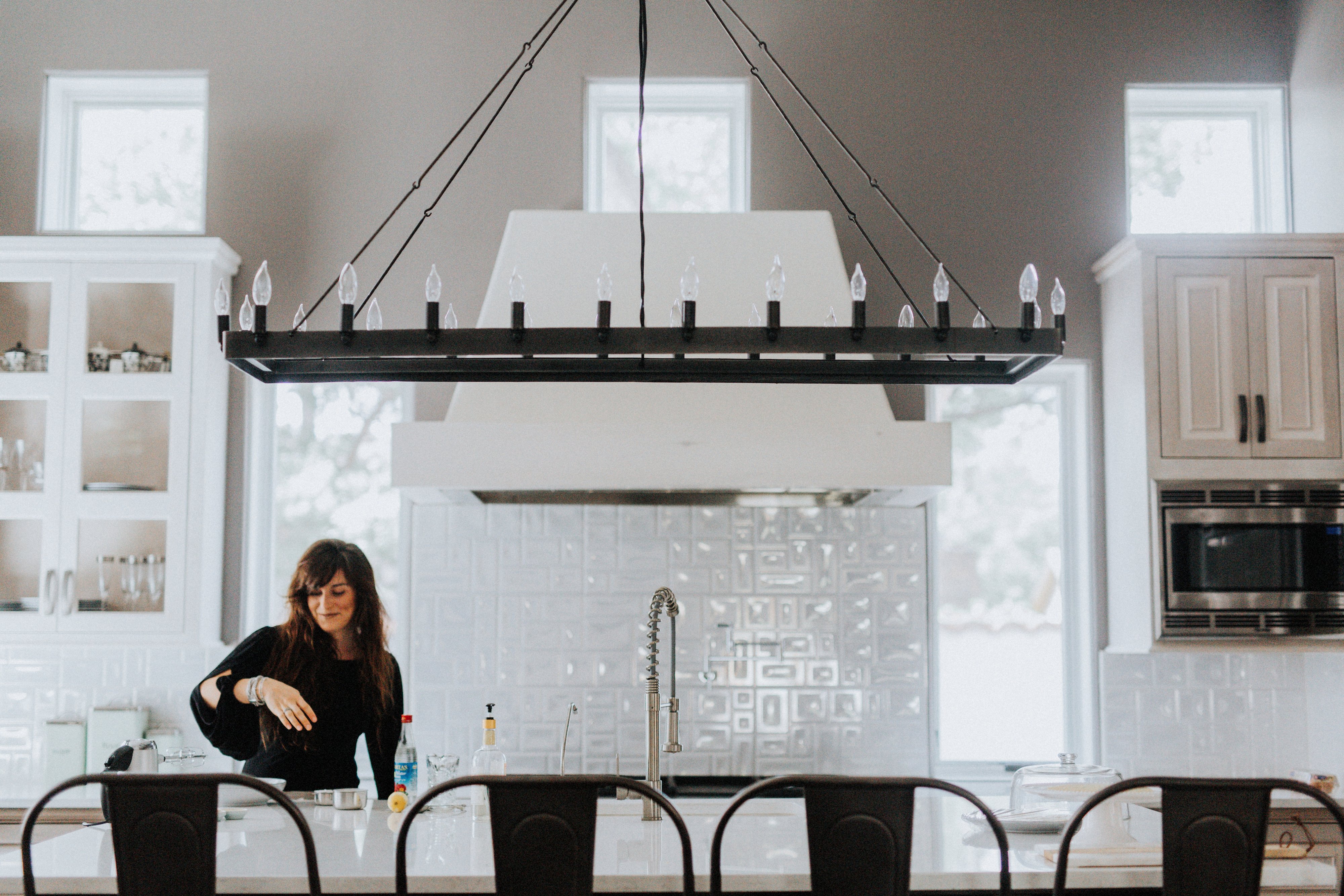 Truth be known, I struggled with this recipe, as I am wont to do with foodstuffs. I failed to recognize, too late, that 'whisk' is a Europeanism for 'you need to get out your damn egg beaters.' My cake layers came out pancake thin as a result, and anyway, I'd recommend using one large pan in lieu of the two 20 cm pans. And I forgot the cardamom, after all the to-do with Cleopatra? I also mixed in about 3 x the recommended rose water, because I liked the shot of me pouring it for Instagram stories. My cake tasted like Estee Lauder perfume.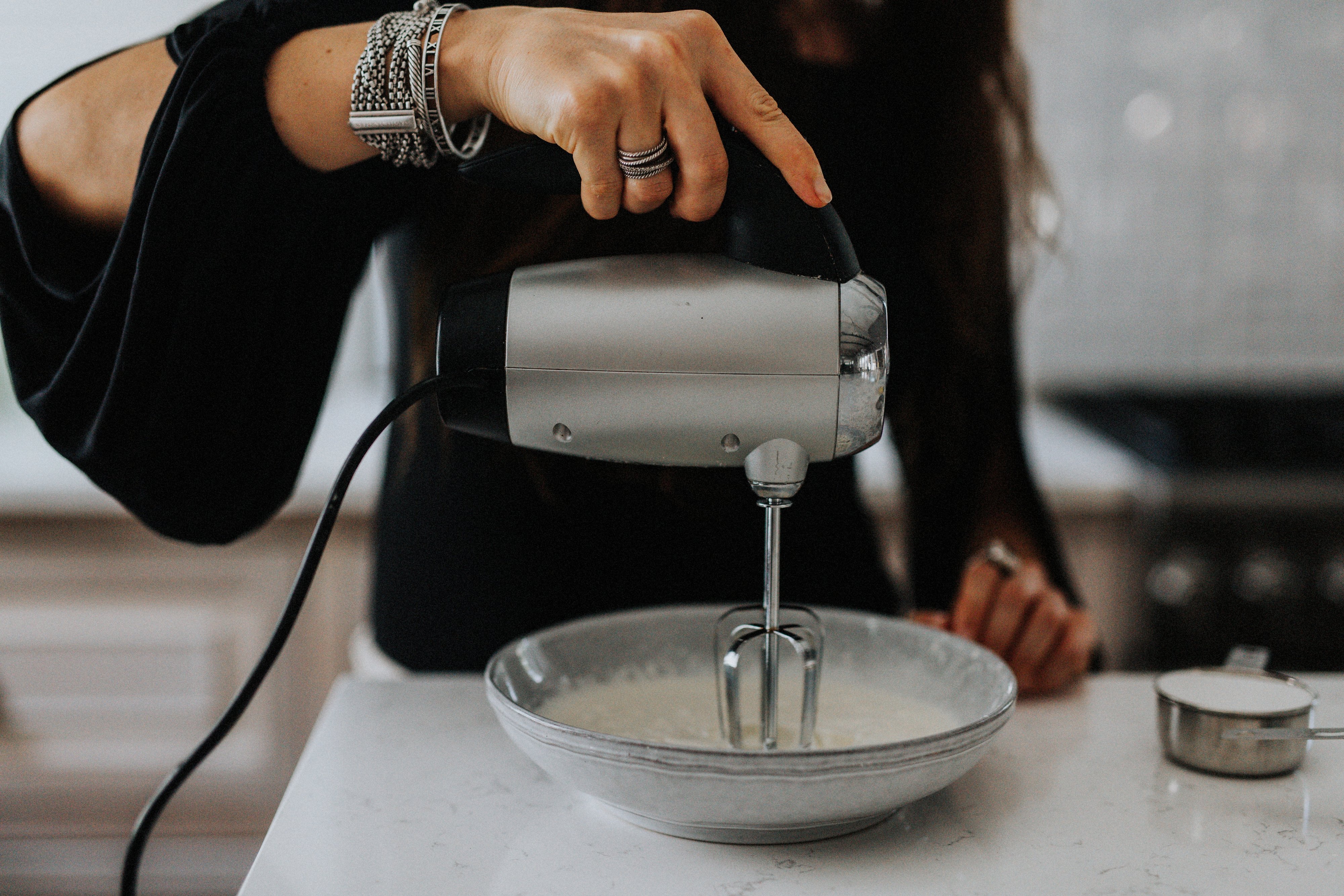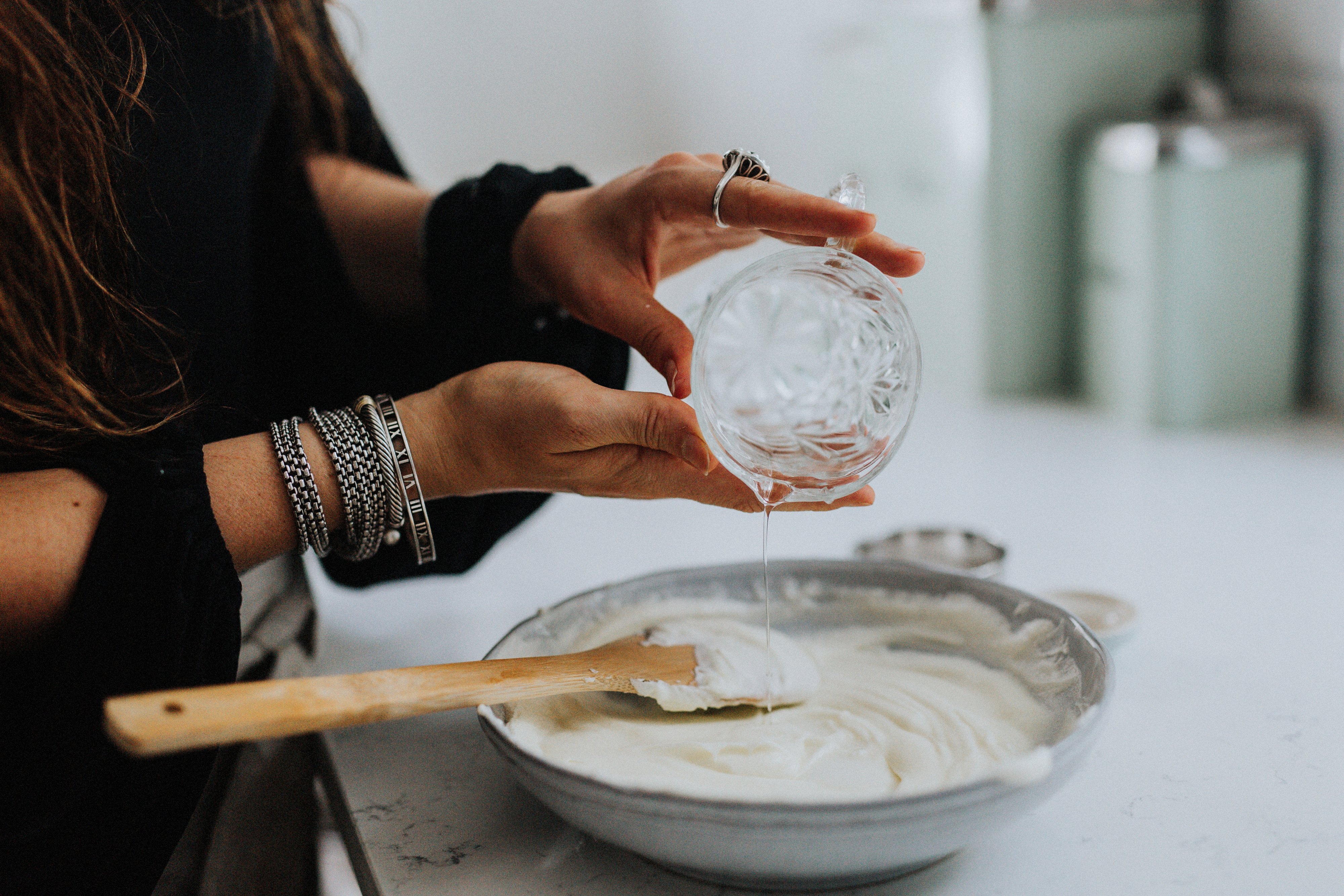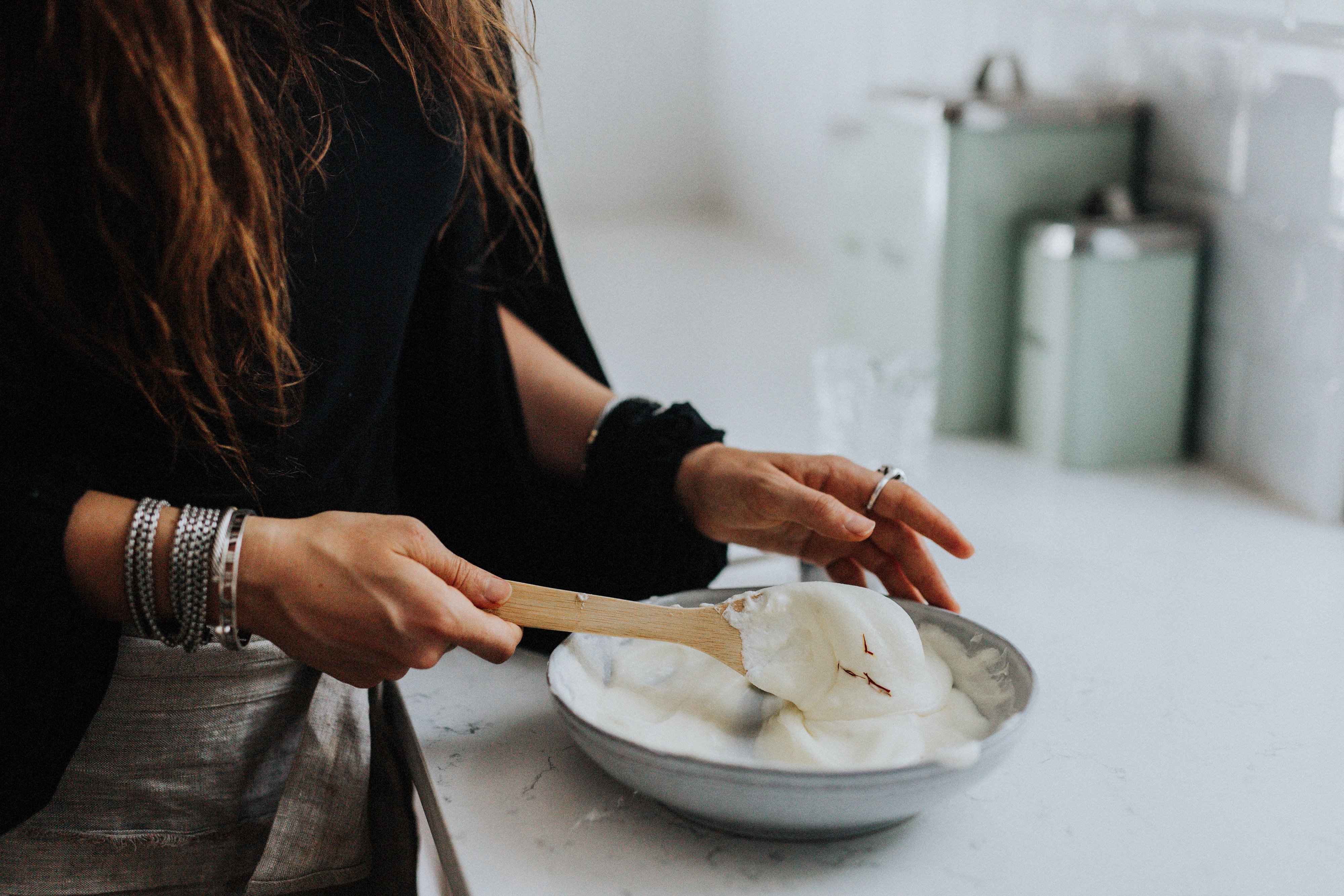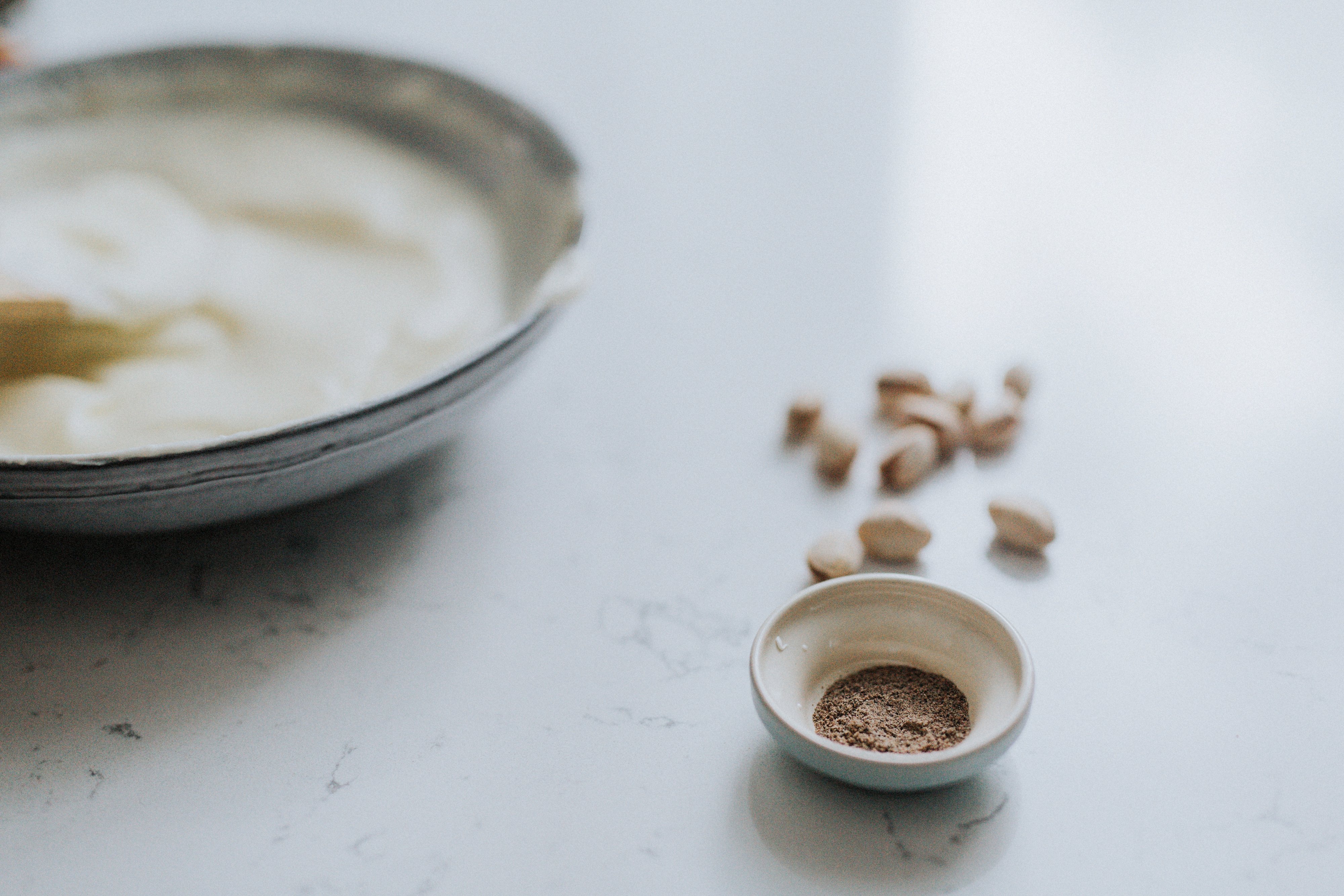 But. For all of my inefficiencies, things turned out at least visually well. The layers of the cake, though too thin, seemed as delicate as the flavors, and the frosting took on such a golden color once I folded the saffron in. I stopped to smell the rosewater, often. I tried to think soberly about the alchemy & science of food. And, while far from a vision of grace, I felt elegant in certain moments—like when I checked on my rose petals, candied and cooled overnight, and poured rose water into the frosting bowl. Gestures & ingredients like these made me pine for far away markets and other languages, and for the places I know only in my mind.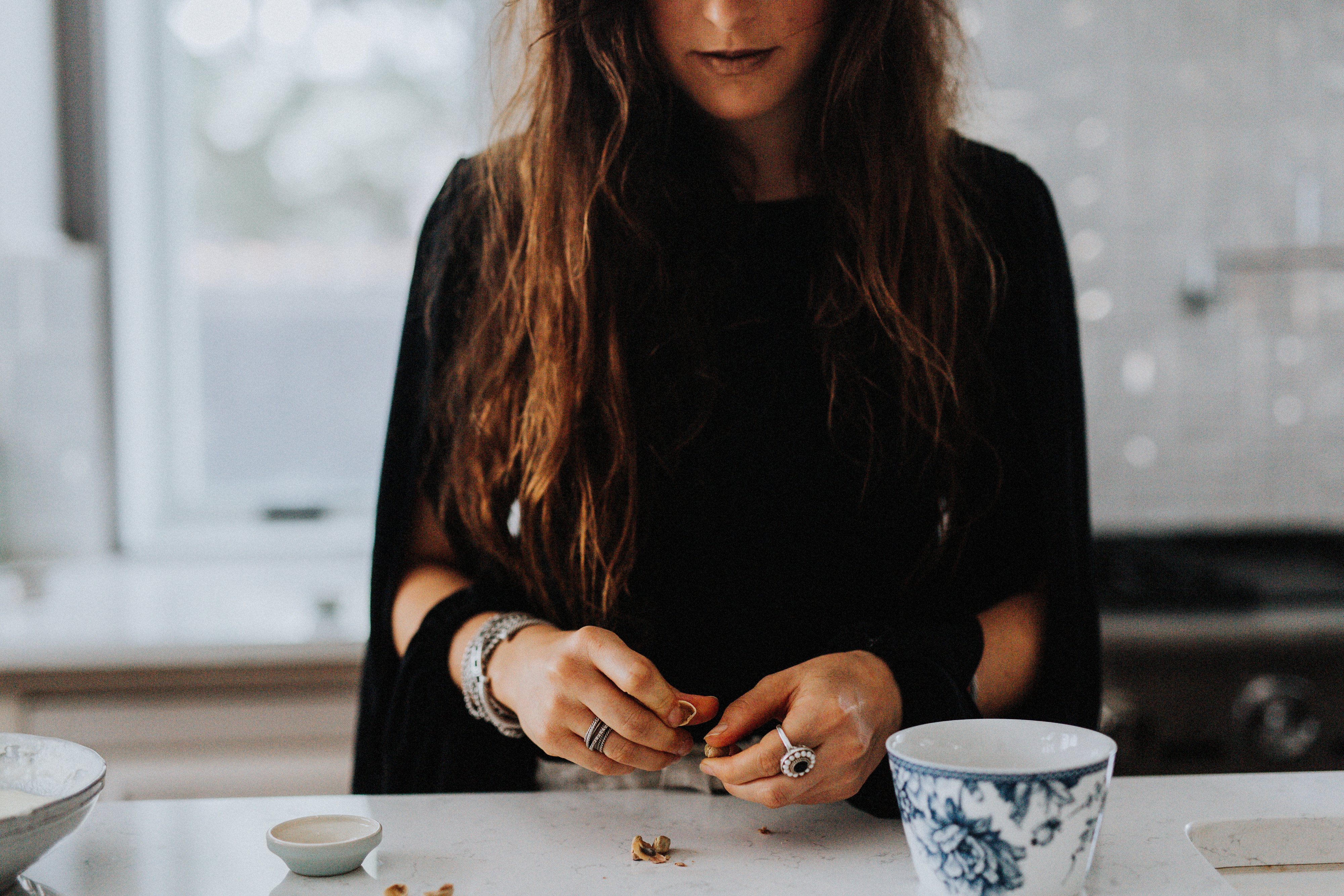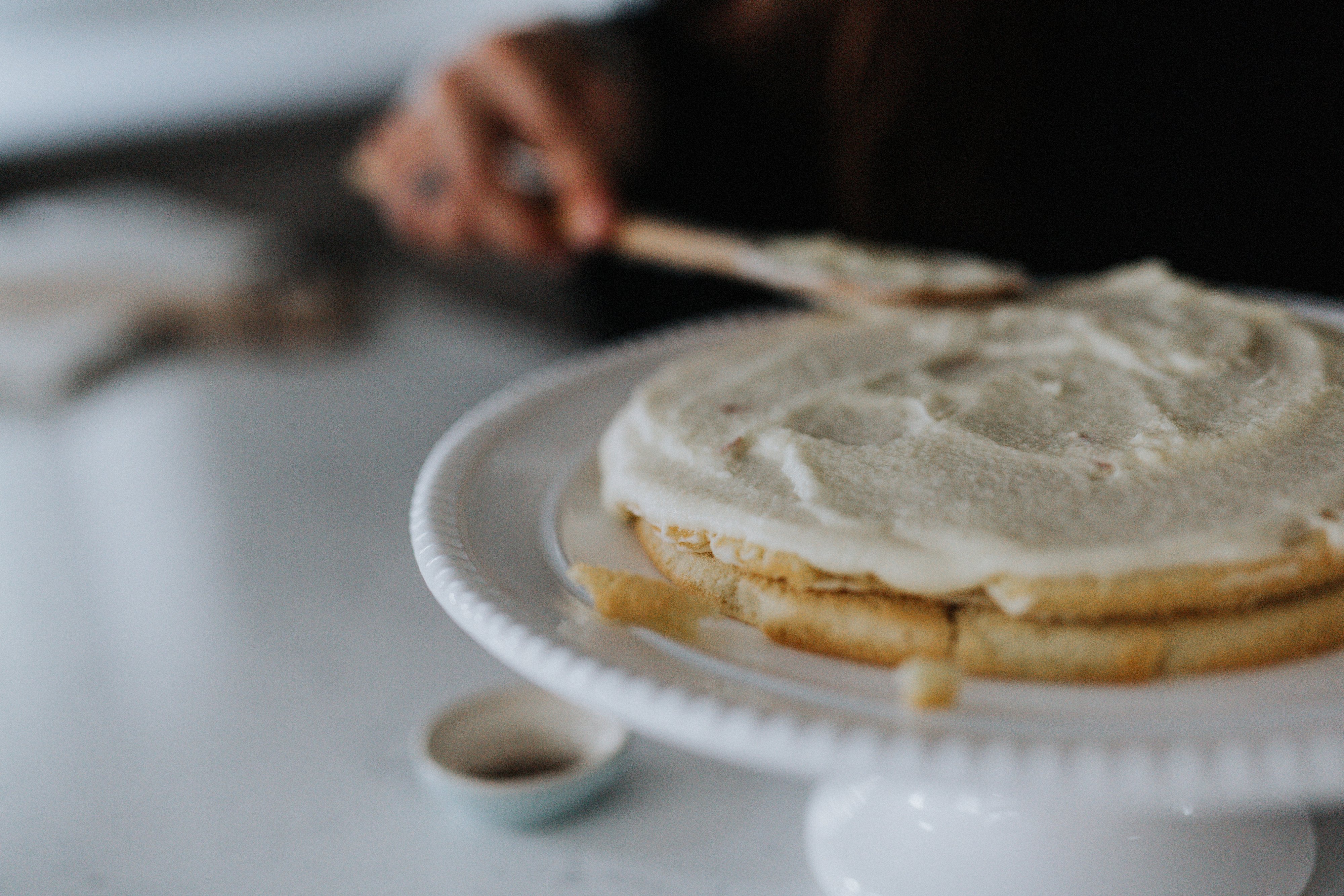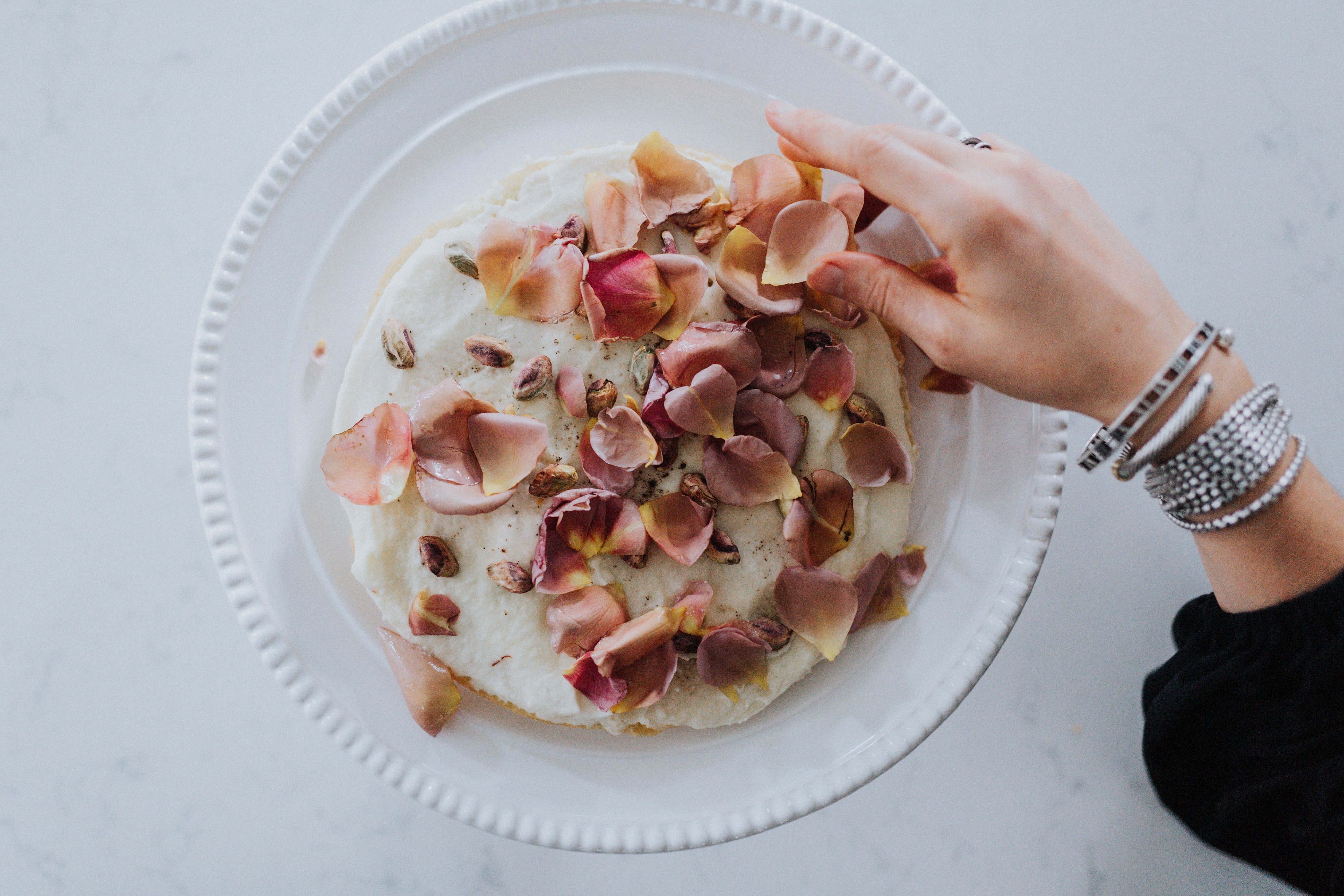 That said, when the flowers came back on the scene, it was as though my whole body sighed with relief. My face lit up. I felt joy. My fingers were full of intuition and skill. I was the little girl I used to be—fingers flying for the flowers, knowing instinctively what to do with them. I could create again. Holding flowers is the most natural thing I know. I love them, love them.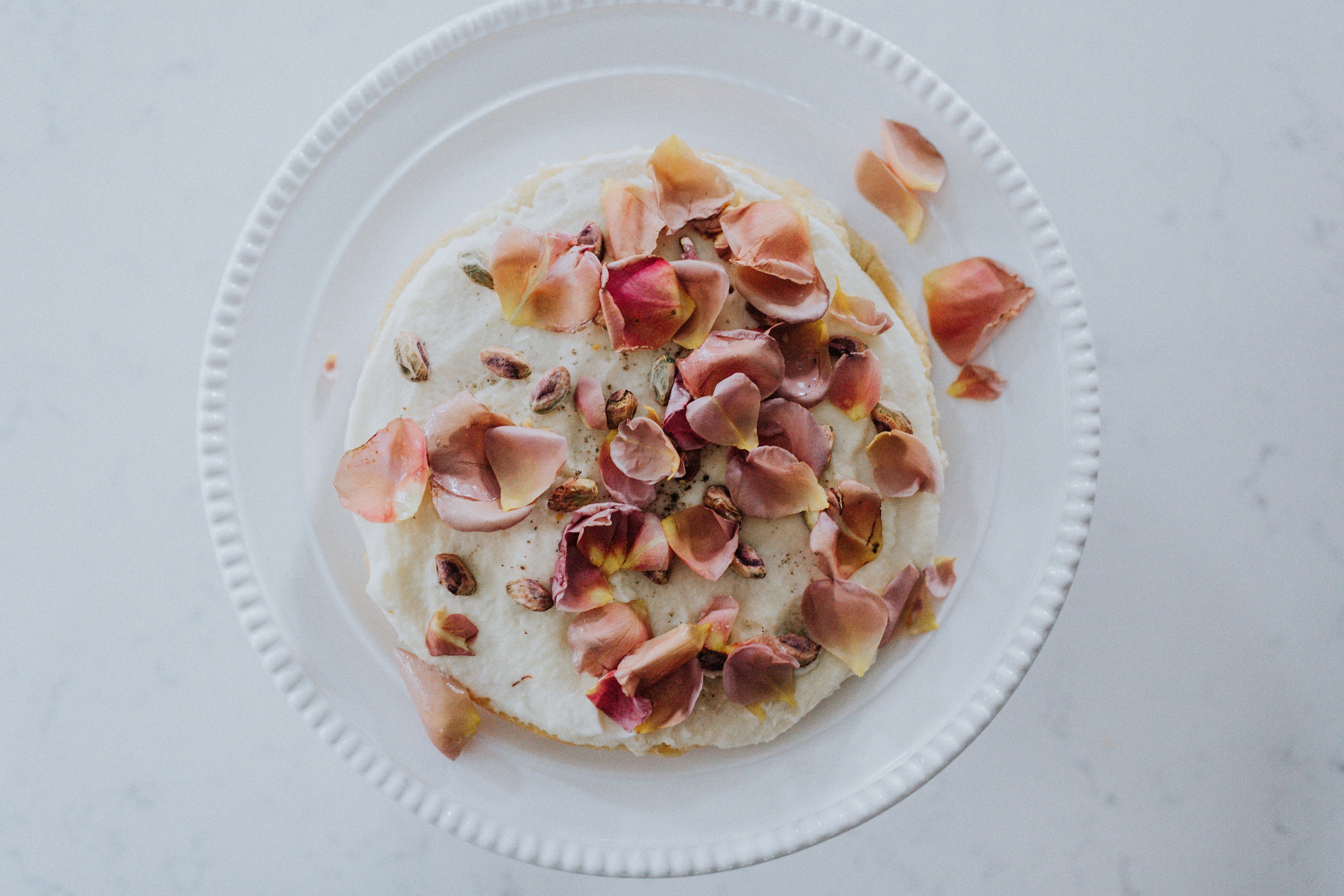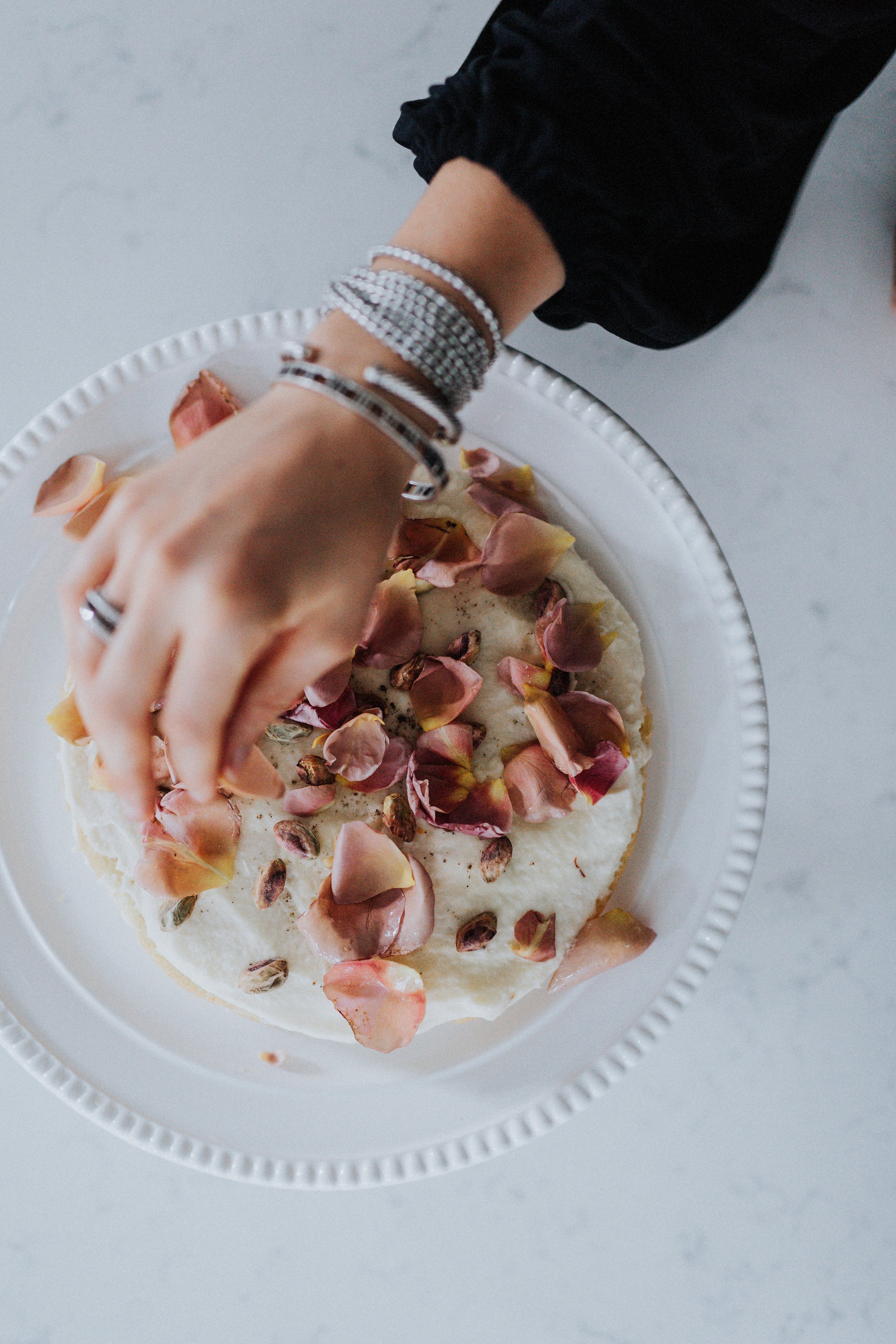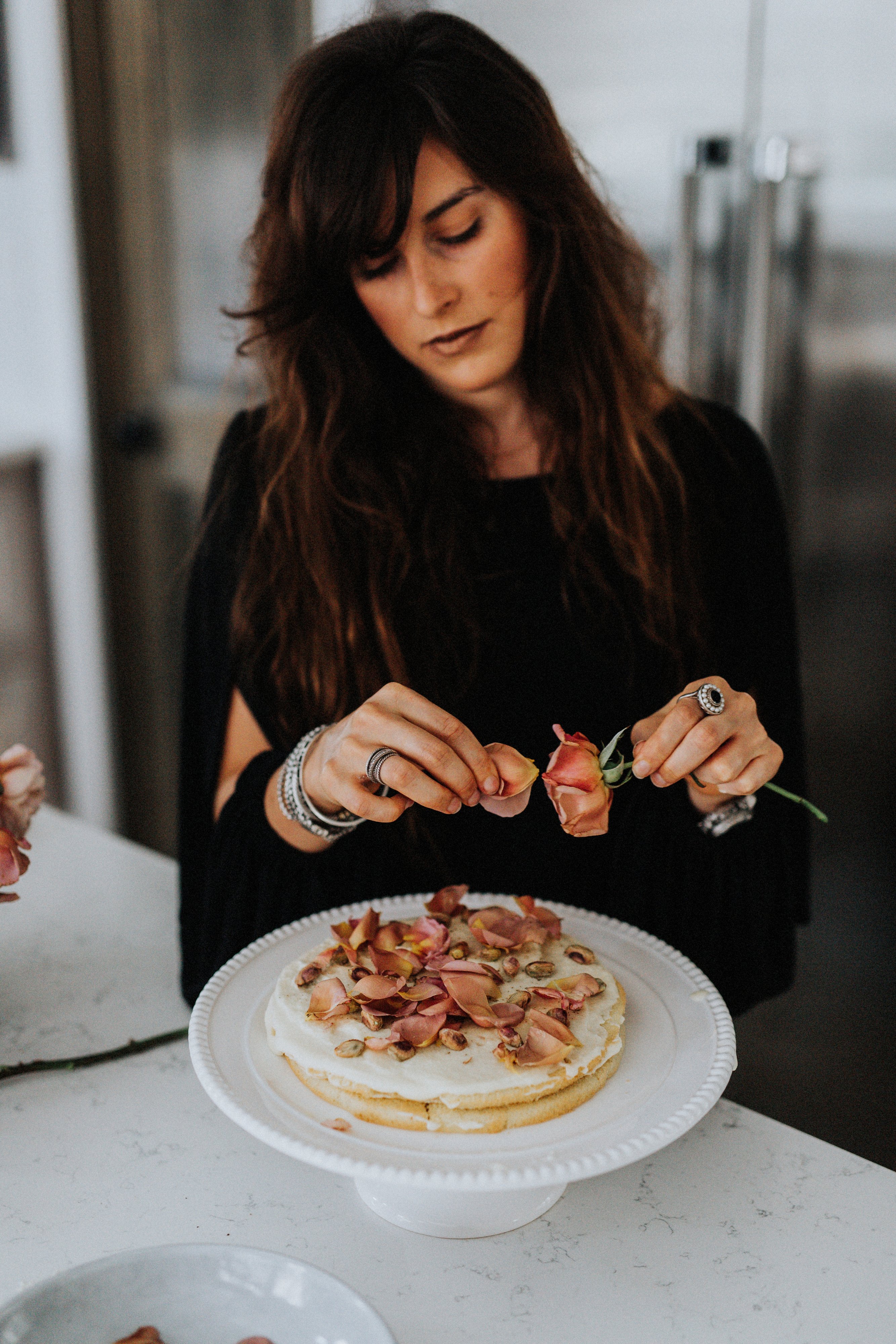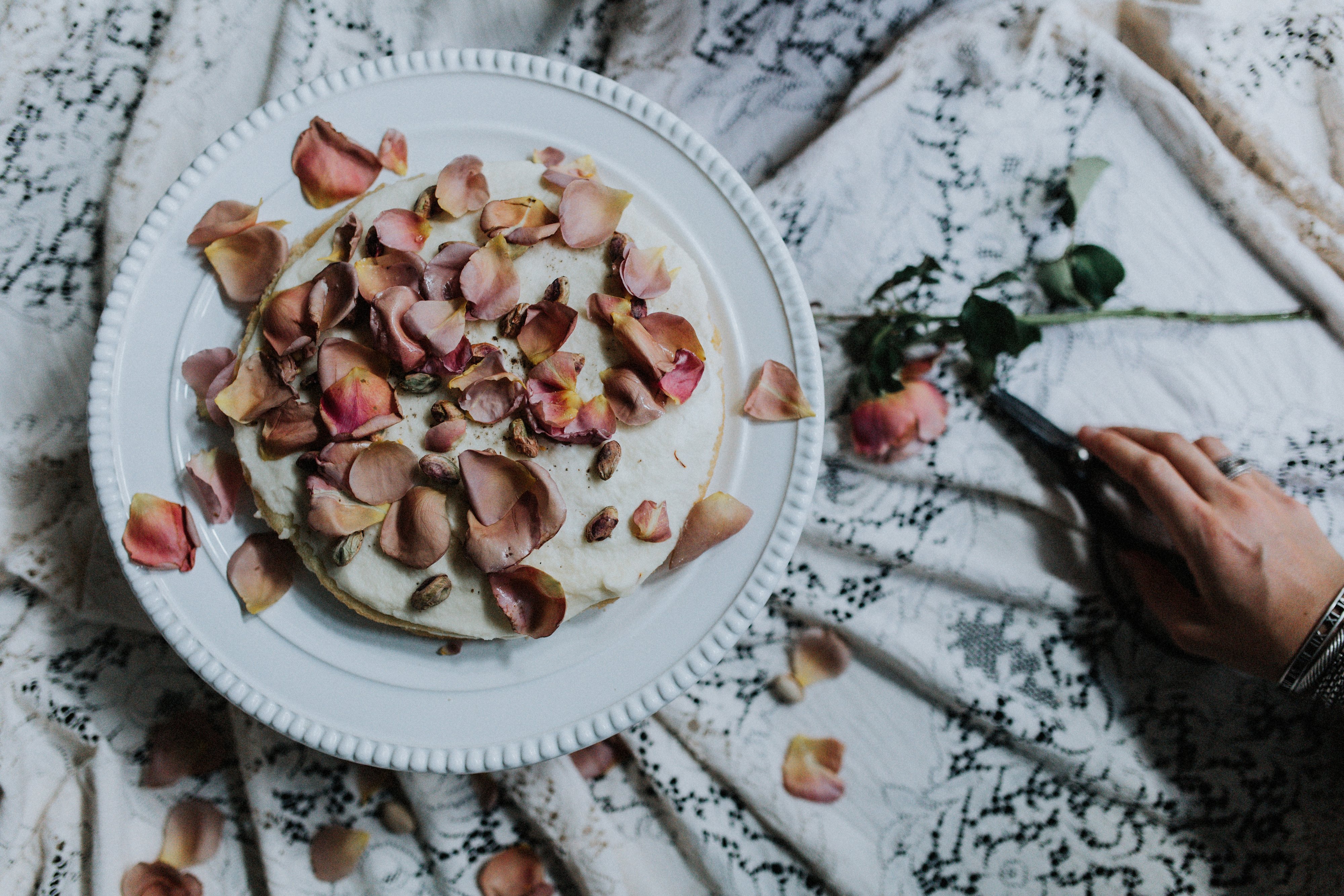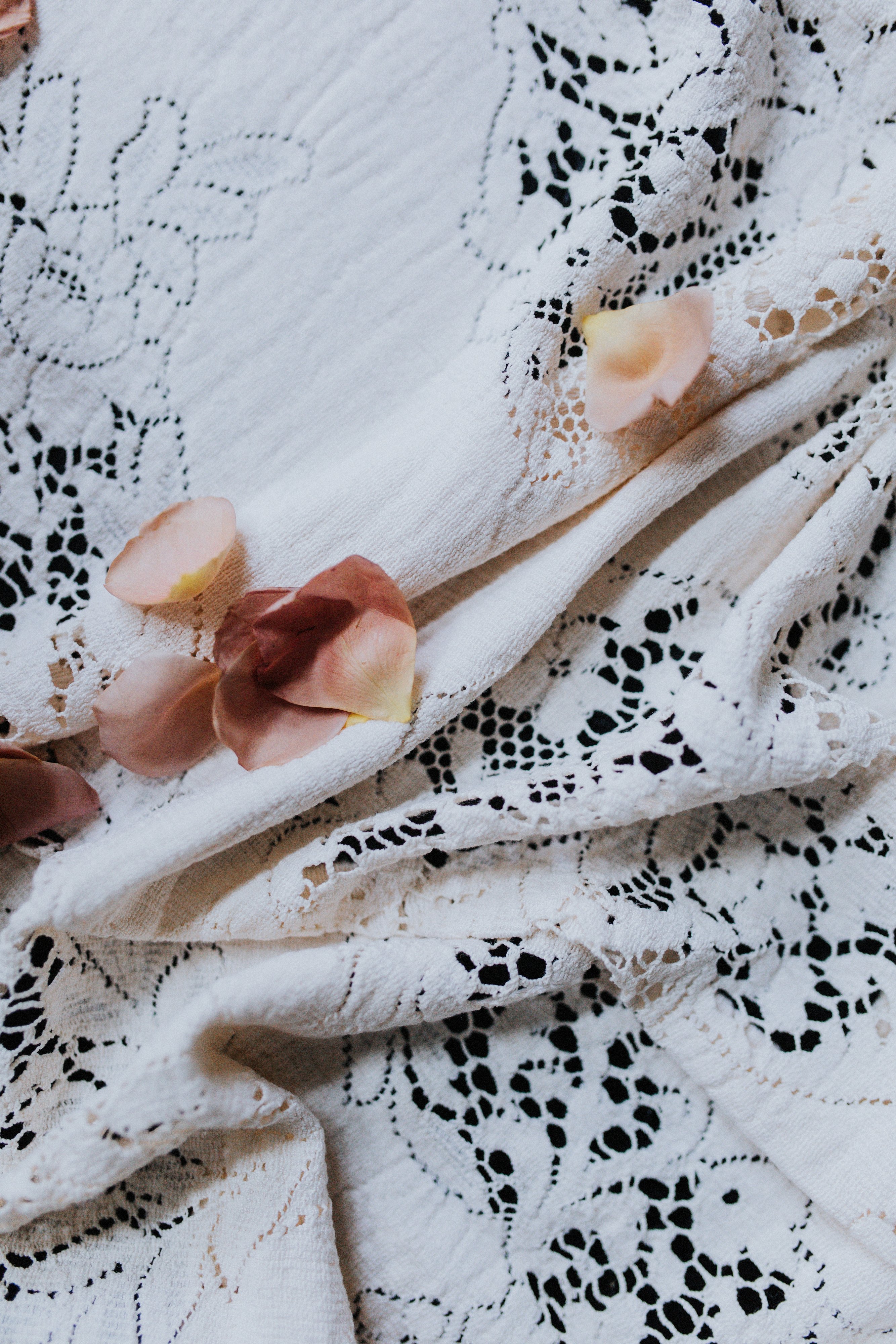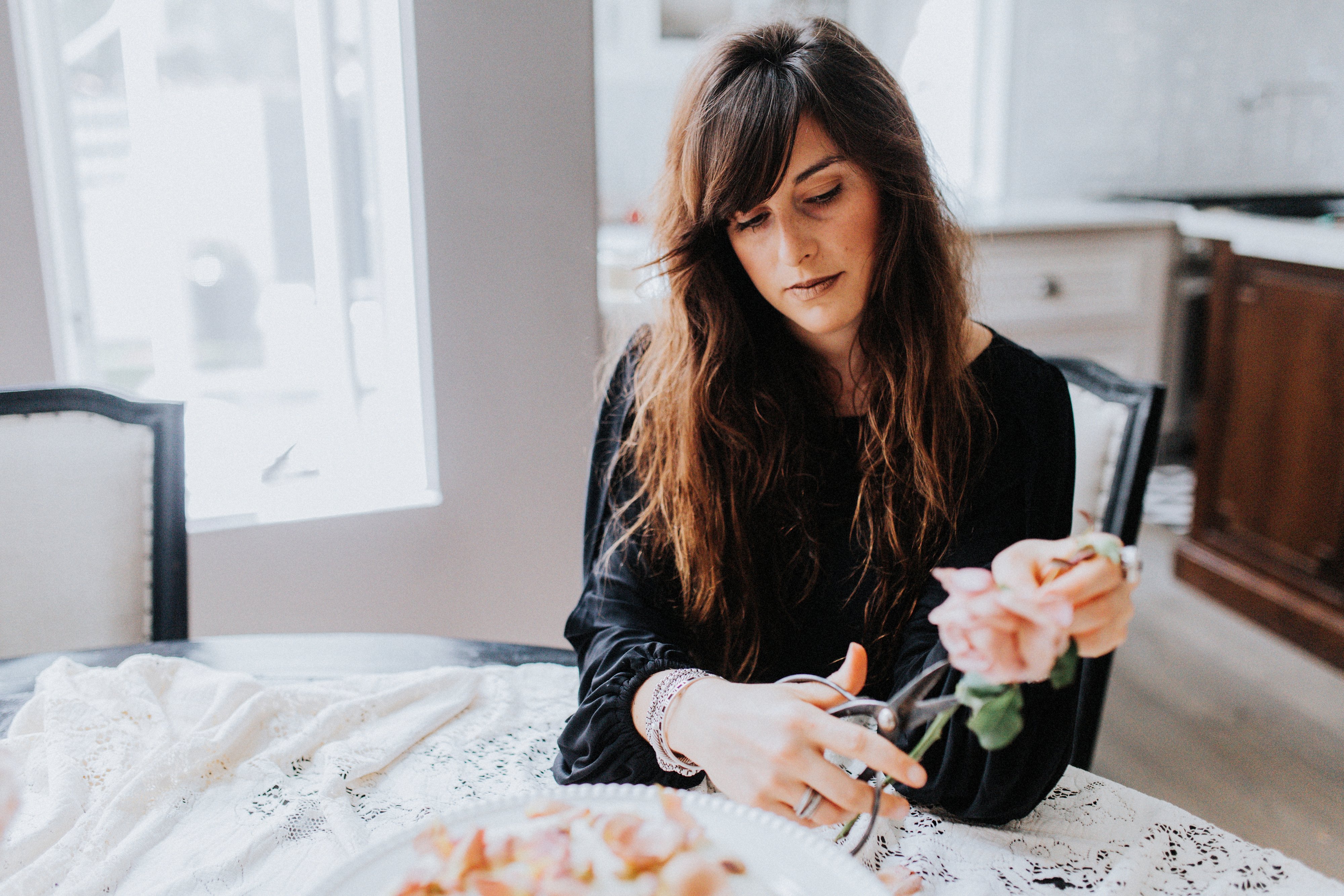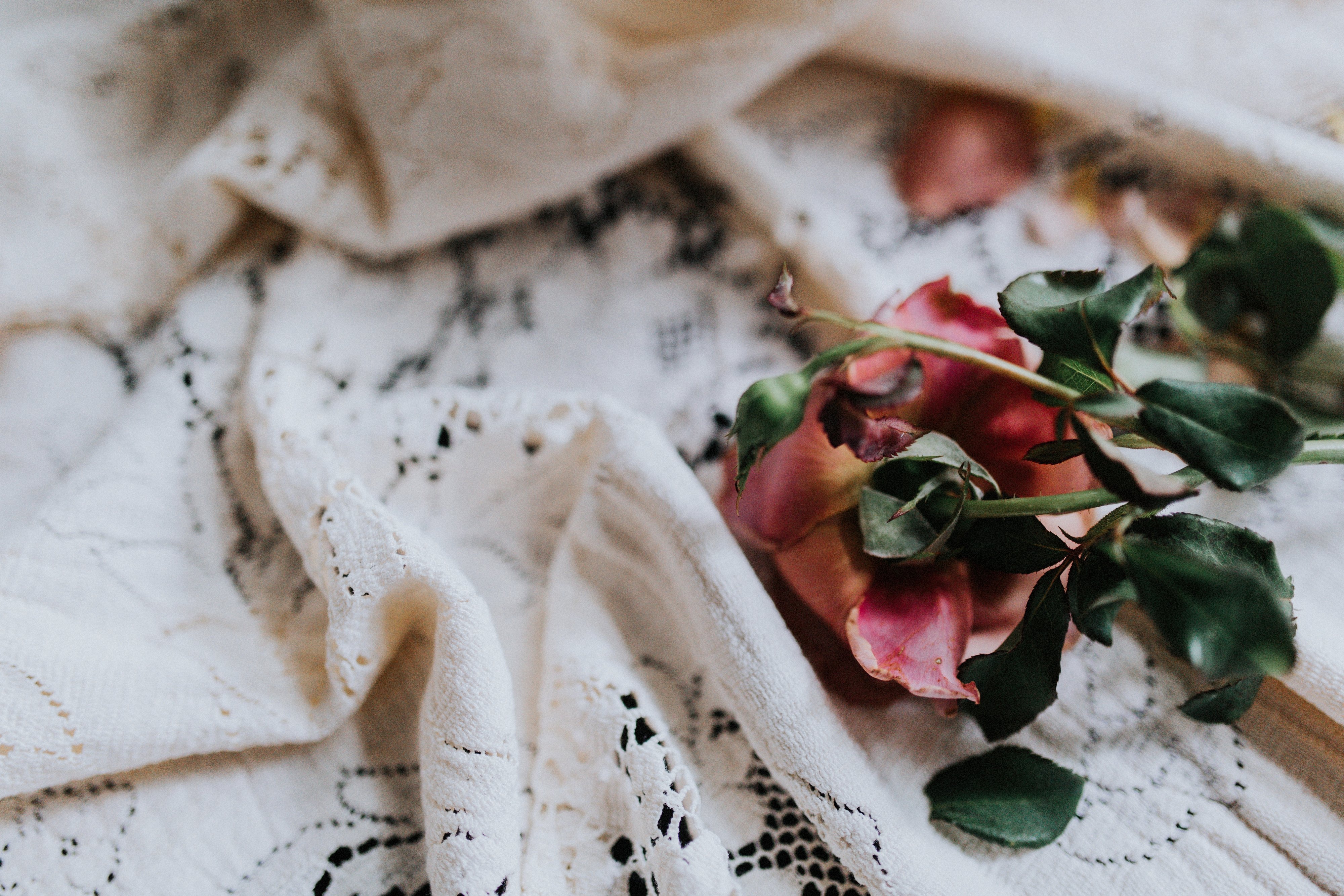 When my cake was crowned with petals and pistachios, I placed it on the table with a piece of my great-grandmother's Irish linen. I felt how, when we take part in recipes and traditions, we take part in our own histories. It was touching and felt perfect, however imperfect the baking process had been. I smoothed the places on the linen that are spotted and tea-stained. I wondered about my Czech grandmother and what kind of cakes, if any, she baked, in a crummy little kitchen in Prague. I wondered about all of this as I frittered away time with the flowers. The roses looked lovely in the early afternoon light, the sugar on their petals like dew. They were Koko Loko, a gorgeous cappuccino colored rose, flown to me from my favorite farm in Santa Barbara. The little particulars of my little scene filled me with joy—the cake and linen and scraps of lace and coffee-colored petals.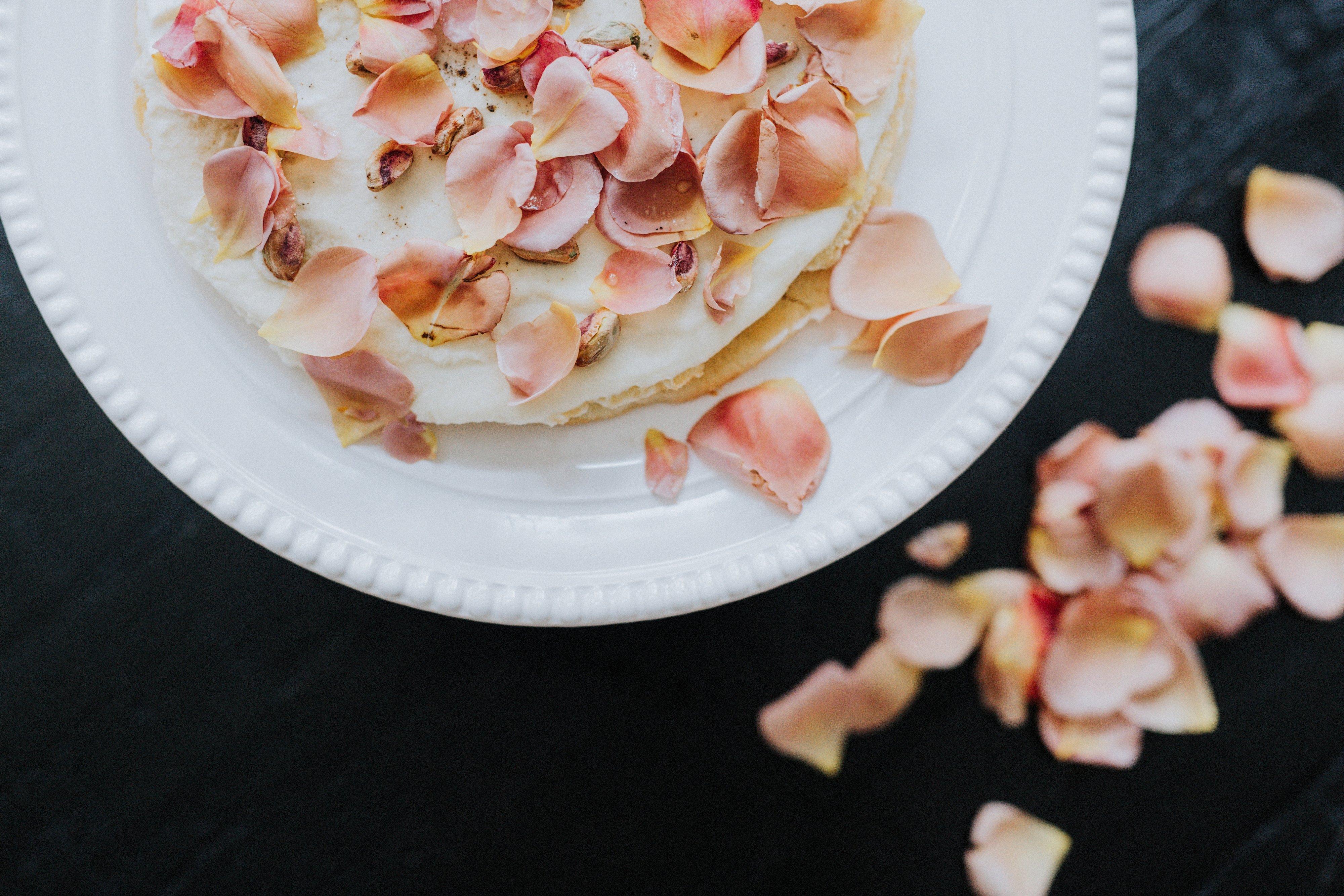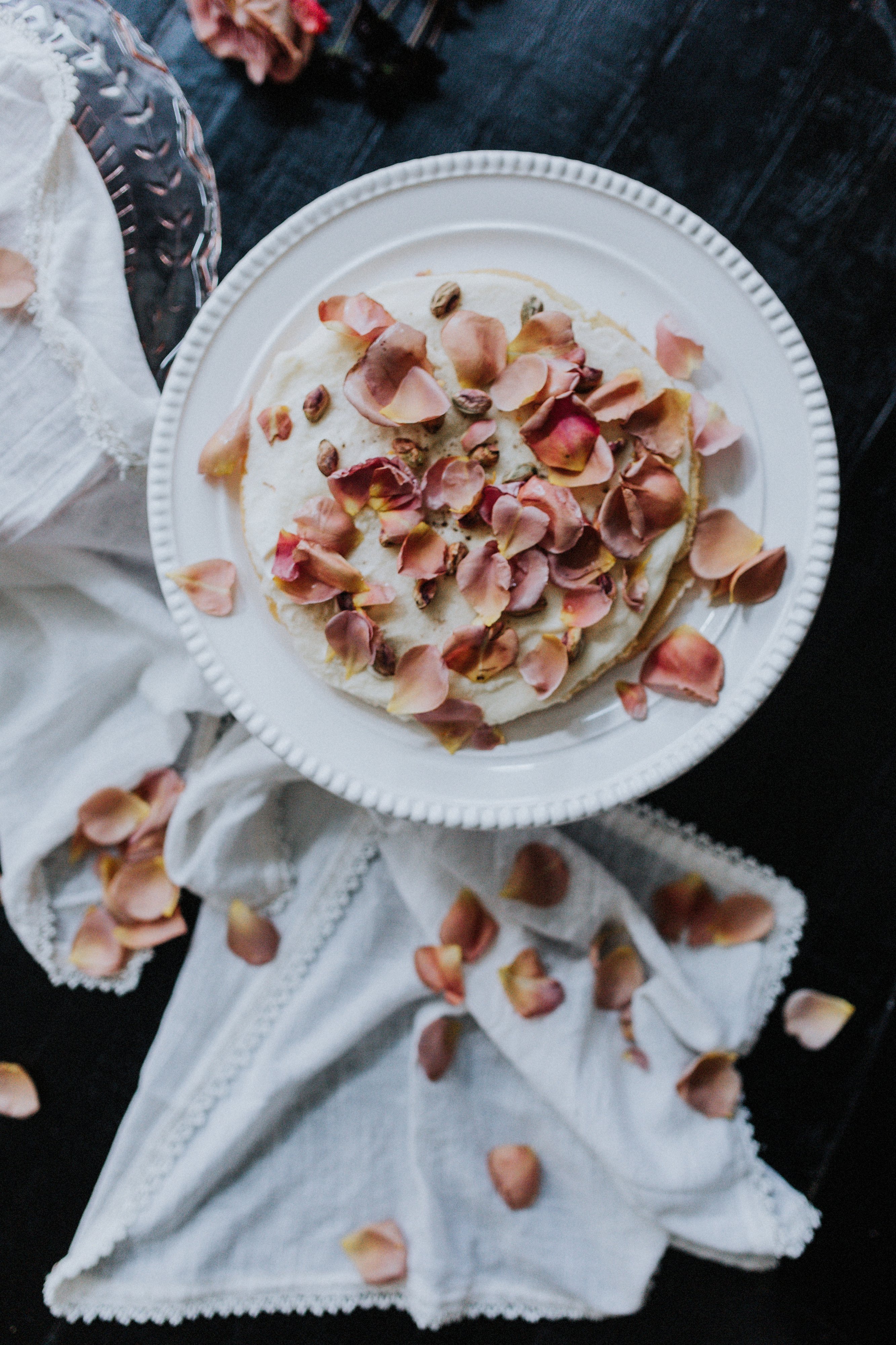 It seems my expression is best suited to flowers, not food, but that doesn't mean I can't refine and explore my touch through these other mediums. (Or, at least, read about others who can.) A French food diarist I am not, but I can fully back the ideas of effort, simplicity, and intentionality. Of pulling out your best ingredients, and wearing your best black dress, regardless of the occasion.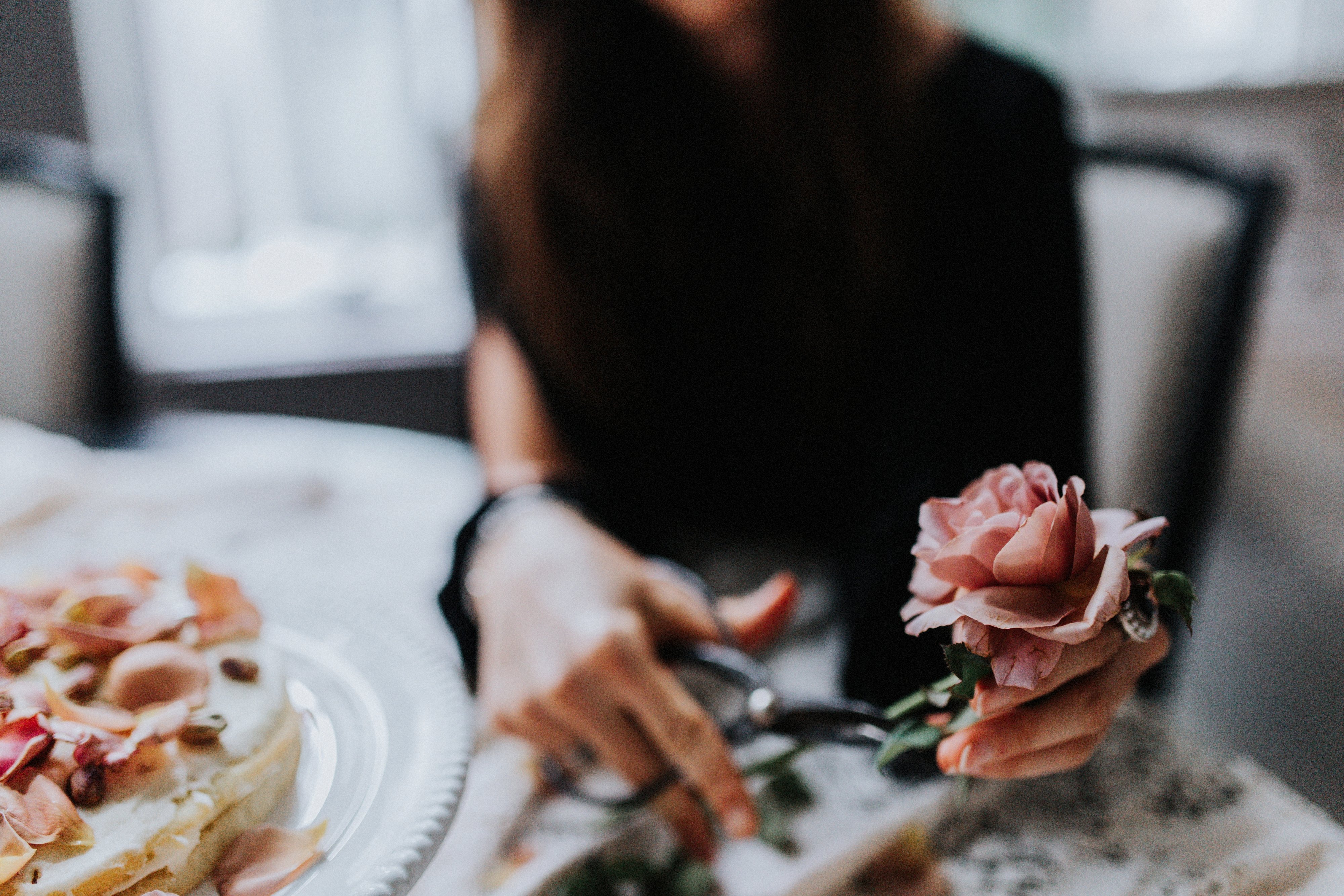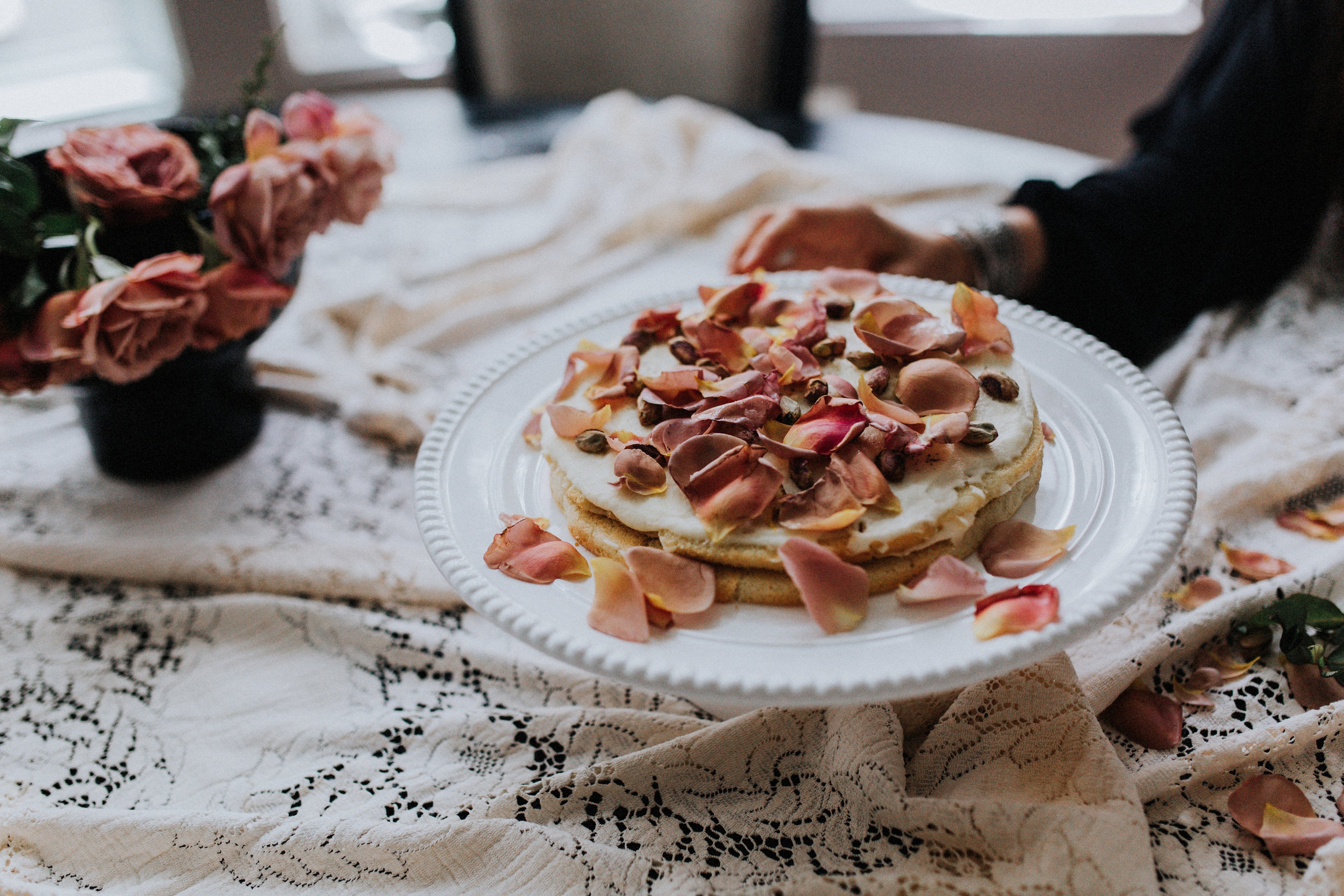 It's also worth noting that, as all the children's books say– being oneself is a good thing to be. I am, sadly, never going to be French or a food diarist. The disparities are embarrassingly obvious as I sit here writing this, listening to Emmylou Harris and wearing what is to French standards 'too much jewelry' and not one lick of makeup (as for my last meal? It was, I'm sorry to say, a boiled egg on a bed of spinach with… hummus). I will never be nonchalant; I'm too openly earnest and striving for that. I have a day full of flowers and wedding proposals to wade through; not a market or a trace of meal prep in sight. In art, we seek out our opposites. But the other side of the spectrum– our side of the spectrum– isn't a terrible place to fall.
Yes, I just ended this a message to 'be yourself.' How American of me.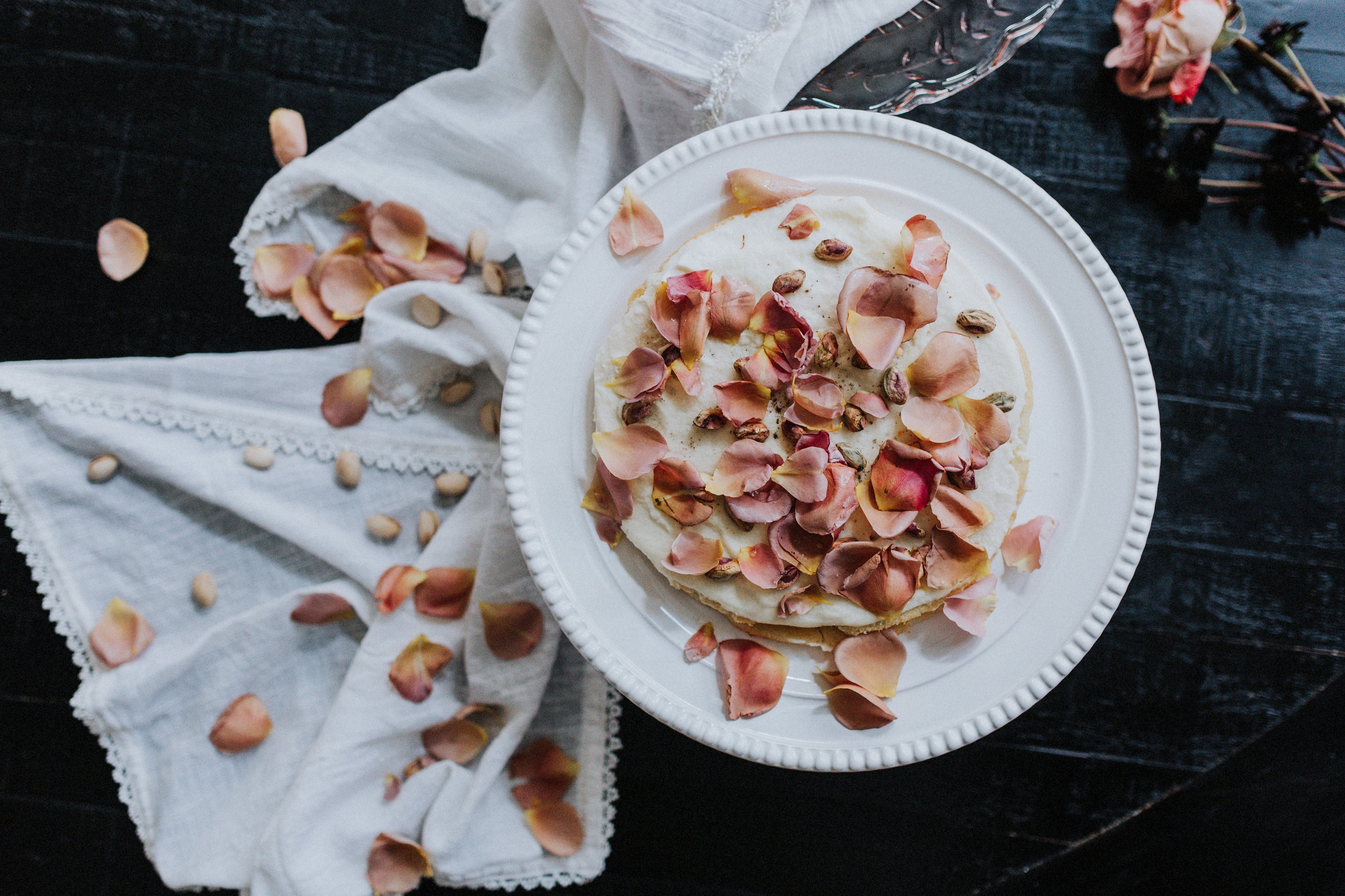 Persian Love Cake, by Mimi Thorisson of Manger
Recipe credited to and reprinted from Manger
Ingredients:
Cake:
140 grs plain flour
60 grs sugar
9 grs baking powder
Pinch of salt
3 eggs, separated
60 grs canola oil
80 ml water
1 tsp lemon peel
¼ tsp ground cardamom
8 strawberries or raspberries (sliced and optional)
Cream icing:
25 cl whipping cream
60 grs fine sugar
A good pinch of saffron
1 tbsp rose water
2 tbsp pistachios (unsalted)
Candied petal roses
Untreated organic rose petals
1 egg white (whisked until foamy)
30 grs crystal sugar
Clean delicately the rose petals, and brush each rose petal gently with the frothy egg white. Sprinkle each rose petal with sugar and dry on a small wire rack or parchment paper covered plate for half a day, or even overnight. I put mine in the fridge because the weather is getting warm.
Pre-heat the oven to 180°C. Prepare two cake tins of approx 20 cm with parchment paper and butter on the sides. Mix all the dry ingredients together: Flour, salt, sugar and baking powder. Whisk egg yolks with the water and oil until double in size and fluffy then add the lemon rind. Add to the dry mixture. Whisk the egg white until stiff then fold in very gently to the batter. The key is to have an angel light fluffy chiffon cake so this part is very important. Pour equal parts in both cake tins and bake for approx. 15-20 minutes or until test-knife comes out clean. Leave to rest and remove from pans to cool on a wire rack. The cakes must be completely cool so you can spread the icing.
For the cream frosting:
Whisk the cream to 'stiff' peaks, gradually add the sugar, rose essence and saffron.
When cakes are cooled, spread the first cake with the cream frosting, add the sliced strawberries (optional) all over. Add the second cake (like a sandwich) and continue spreading the cream frosting. Sprinkle with pistachio nuts and candied rose petals. I like to add some additional fresh rose petals (cleaned and rinsed) on and around the cake for maximum 'beauty' effect.
-Recipe and instructions by Mimi Thorisson. All other words my own.
And thank you, as ever, to the beautiful Bahareh Ritter of Ritter Collective for this absolutely stunning set of photos, and for accompanying me on yet another creative venture.